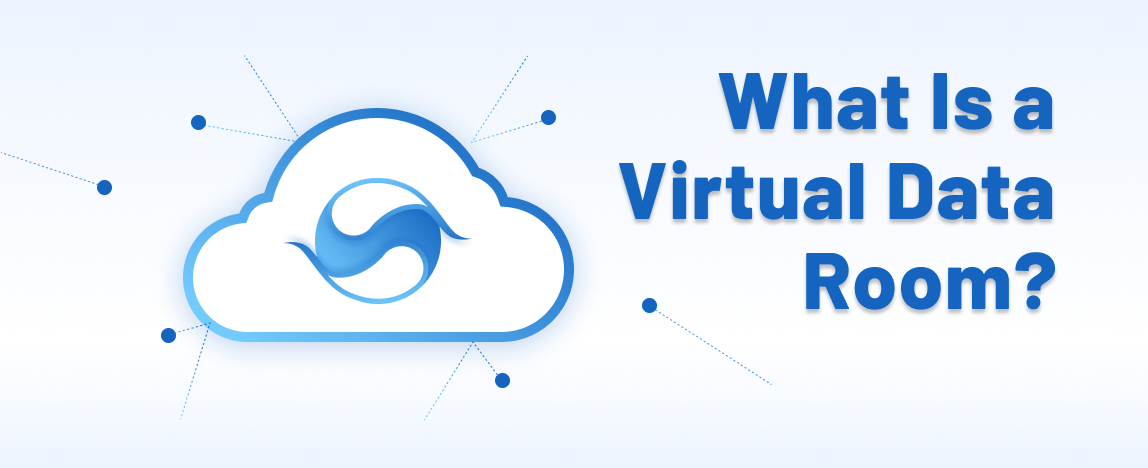 What is a virtual data room?
A virtual data room (VDR), also known as a virtual deal room, is a secure online repository that many companies use for storing and sharing sensitive documentation. Usually, it is used to facilitate the due diligence process in M&A deals.
VDR software allows users to share critical business data over the internet in a controlled environment and interact with other users in a completely secure manner from any device and location. The VDR software users can easily share files with third parties, like investors or clients, within a controlled online space.
Online data room, digital data room, electronic data room are synonymous with Virtual Data Room.
An electronic data room eliminates the need of having physical paperwork, which reduces clutter and waste. Moreover, the digital data room offers advanced document management and security features that help to improve workflow and increase a team's productivity. The online data room provides a safe space for better collaboration and communication thanks to features such as the Q&A and comment sections. In the deal room of data room, users can request access to necessary documents at any time and get a quick response to instant notifications.
How does a VDR interface look?
An online data room has an easy-to-navigate interface, which is good for users with little to no experience using data rooms. The general dashboard gives the virtual deal room users an overview of all files and user activity within the VDR.
Also, most digital data room providers have additional training and educational materials to help new users learn more about the features and navigation in the virtual data room.
Which industries use VDRs?
All-sized businesses use virtual data rooms. This tool is valued for the high security of its business data — secure data sharing and storing, simplifying online due diligence, and mergers and acquisitions. These are the three most popular uses for VDR software.
Virtual data room solutions can also be used for the following purposes:
Fundraising. VDRs serve as platforms where companies can share their confidential information with prospective investors during the process of raising funds.
Board communications. Data rooms ensure secure communication for all team members regarding different aspects of a deal's lifecycle.
Consultancy. Privacy is a top priority for consultancy businesses. The data room provides a controlled environment to track user interactions.‍
Manufacturing. New designs and product data can be shared and discussed easily within a virtual data room, which is helpful for manufacturing industries.
The industries most commonly using virtual data room software include:
Technology. Many tech companies use data rooms to share important documents with remote teams.
Investment banking. Processes like IPOs, capital raising, and M&A involve large volumes of documents. Therefore, using virtual data rooms can facilitate these transactions.
Private equity and venture capital. Companies in these fields often have several deals going simultaneously. Using a VDR allows teams to organize these deals securely and accurately, reducing the chance of error.
Legal industry. The legal industry is known for handling mountains of paperwork. Using electronic documents changes everything. It allows users to streamline the process of sharing documents for various legal proceedings.
Life sciences. Companies working in the life sciences industry require the highest levels of security to store patient files, clinical trial results, and other sensitive data. Virtual data rooms provide secure solutions that comply with the strictest security standards like HIPAA.
Startups. Startups can utilize data rooms for important processes like fundraising. Moreover, data room software allows startups to analyze investor interests.
How to set up VDR software
Setting up VDR software is straightforward and simple. There are several important steps to ensure the platform is ready to be used for complex transactions. Here are the steps for preparing a VDR:
Choose a data room that fits your needs. Before committing to any data room, you need to make sure you've found the software that best matches your requirements and fulfills your business needs.
Create a file structure to organize the data room. It's recommended to create a plan or a map, which you can follow to organize and structure the data room.
Collect and upload necessary documents. Most VDRs offer bulk upload, which makes the process easier and much faster.
Set the access levels and permissions. You should know exactly who is responsible for a certain task so you can give them access to the correct files.
Invite your users to the data room. When you've uploaded, organized, and assigned access permissions to your files, you can start inviting team members or other people involved in the transaction to the data room.
Are data rooms secure?
Virtual data room providers offer features that guarantee online storage safety and access security by adhering to international compliance standards. For example, most providers are certified with ISO 27081, which is considered the premier security certification for cloud storage systems.
VDRs offer security measures that prove their reliability and comprehensive approach to secure online documents. Features for secure data sharing include continuous data backups, 256-bit AES data encryption, watermarking, multi-factor authentication, and activity audit logs.
The full guide for VDR security can be found here.
The advantages of using virtual data room software
There are advantages to using this tool despite the industry or the size of the company. Traditional storage and file-sharing programs are limited in capabilities. Background and business-critical needs predictions make digital data room creators the most advanced in technology. In more detail about the benefits, then these are:
innovative mechanisms to guard the content of the platform, which exclude the intervention of third parties,
organization of data in such a way that users can easily find materials, without heaps of paperwork,
document administration tools that make it easier for even the largest corporations,
directors and staff have free access to the virtual site anytime and from any device,
the transaction process is less stressful and does not raise concerns about the safety of exchange and storage.
Virtual data rooms are among the most powerful online tools. They erase the boundaries of time and regions, allowing participants to conduct secure business processes from anywhere in the world, regardless of the task that the business needs to solve at the moment.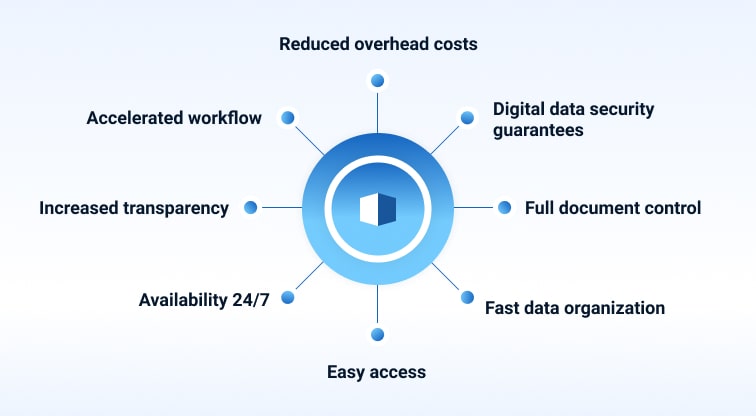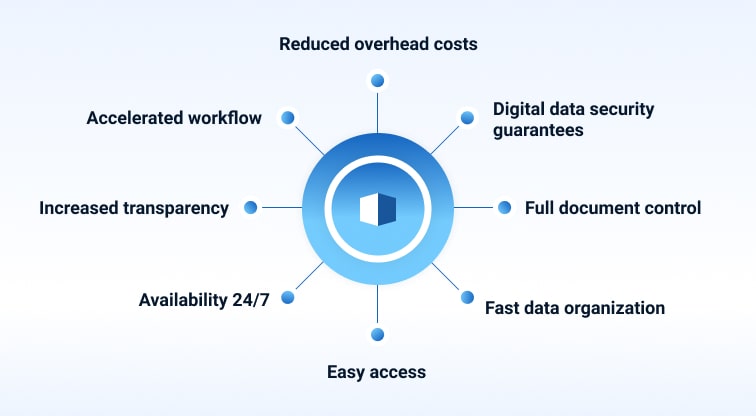 Virtual rooms are designed to help with the following:
Provide secure data storage
Provide convenient and granular access to documents for each participant
Make any process with documents exchange, discussion, and approval (e.g. M&A process) simple, fast, and as transparent as possible.
Data security guarantees
When using a data room, you can be sure that your files are protected. Each file that you upload to the virtual room is checked by antiviruses for integrity and the absence of threats. Downloading damaged or vulnerable files to the room is restricted.
Access to each file such as opening and downloading is controlled by multi-level encryption so you can manage access to documents both in the virtual and physical rooms. If necessary, you can remotely delete any file.
Complete document management control
Within a virtual data room, your documents are fully under your control. Thanks to tracking and analytical features, VDR admins can track all processes within the platform and detect suspicious behavior.
You can configure individual access to view and download documents for all room participants and see the actions that users performed with these files.
For example, you can allow full or partial rights for viewing or editing documents, assign watermarks to files, and give granular permission to download or print them.
Workflow speed
With virtual data rooms, working with files is even faster and more convenient. They are easy to upload, merge, move, download, delete, and restore. If necessary, several files can be combined into one.
Easy access and availability
Users that have access to a virtual data room can work on their tasks remotely. Moreover, the VDR supports web interfaces and mobile iOS/Android applications, making work convenient from any device.
Increased transparency
Virtual Data Room makes working with documents transparent for the VDR owner and for all participants involved in the process:
Each action and information that participants look for in the data room is recorded in the action log. These data allow you to analyze all user activities for a selected period of time and for specific documents in order to avoid conflicts, misunderstandings, and disagreements.
An intuitive reporting tool with color-coding (heat map) allows the owner of documents to quickly analyze which groups and projects of the room show the highest activity.
You can even analyze any actions by individual users or user groups (how often they enter the system, what documents are available to them, etc.) and change the settings if necessary with few clicks or taps.
Reduced overhead costs
Using a virtual data room saves money, as it eliminates the need for a physical data room, the handling of paperwork, and travel and lodging expenses for colleagues. Additionally, it helps to avoid financial losses associated with data leakage.
Deploying an analog of VDR on your own servers will cost much more than using an existing cloud-based solution. In addition, the use of a solution that is provided by a trusted vendor eliminates the risks associated with data leakage compared to conventional cloud data products, e.g. Dropbox, Google Drive, Box, etc.
What to consider when choosing a data room provider?
Security is the most important thing to consider when choosing a data room provider. Check the provider's certifications and compliance, as it's crucial to make sure you're working with a trustworthy software provider.
Another key aspect is the overall functionality of the data room. You need to determine which business needs you want to fulfill by using this type of software and which requirements you have for it. Also, set a budget to narrow down your options.
Check out a more detailed selection guide to better understand which aspects to consider when choosing a data room provider.
How to find the right data room provider?
The right data room provider offers the functionality that matches your needs. You need to determine what you expect from the provider and which goals you want to achieve by using this tool. Research the virtual data room's feature options and decide which best suits your business needs.
There are many software review platforms where you can find useful information about different providers. You can compare the providers that most interest you and then decide which one works best for you.
Additionally, read reviews or consider referrals from other professionals working in your industry and learn more about their experience using the VDR.
What features do virtual data rooms offer?
Most VDR functionalities enhance workflow and file management. The most common features are integrated document management, security features, permission options, customizable dashboards with analytics, and a Q&A section.
By leveraging VDR functionality, you can achieve better results and optimize the processes during the M&A transaction. These functions allow you to manage and organize your files more effectively.
Virtual data room pricing
VDR pricing depends on several factors, including the number of users, storage capacity, and additional features. Different data room providers offer a variety of pricing plans and subscription options, so you can find the one that best suits your needs.
Most virtual data rooms are far more expensive than basic cloud storage tools. That's because VDRs ensure top-security measures, have 24/7 customer support, and regularly update features. As a result, most data room software starts at around $129 per month.
Find out more about the costs of the virtual data room here.
What is a data room for M&A?
M&A data rooms are considered a secure environment for mergers and acquisitions. Confidential data can be easily stored and shared between parties involved in corporate transactions within a data room. A data room for M&A offers users the necessary functionality to enable smooth collaboration and streamline workflows.
Which aspects differentiate data room providers?
There are some differences in the functionality, accessibility, user interface, and costs involved with certain data room providers. Some providers offer specific feature sets, various price points, security practices, and usability — these are the key aspects that may differ from one provider to another. Nowadays, there are so many data room options available on the market that any business can find one that suits their business needs.
Why are data rooms better than cloud storage solutions?
Cloud storage and data rooms differ in functionality, security, and pricing. Cloud storage security is basic, while online data rooms offer more security and tracking features, as well as encryption and compliance with strict security standards. Cloud storage tools don't have many document management and collaboration features or customer support — in case there is an issue.
When dealing with complex transactions, businesses choose VDR solutions due to their wide tool range and top security practices. Cloud storage is a much less expensive option, while data rooms offer a variety of pricing options, so you can choose what suits your budget.
A more detailed comparison of VDR software and cloud storage can be found here.
Conclusion
A virtual data room is a powerful business tool relevant to a variety of industries. A VDRs functionality allows you to increase your team's productivity, streamline your workflow, and improve collaboration. This leads to positive outcomes and closing important deals quicker with fewer resources.
You can also find answers to frequently asked questions about virtual data rooms here.
About dataroom-providers.org
Dataroom-providers.org is an independent platform that provides full reviews of various virtual data room software. Here you can find detailed reviews of all data room providers available on the market with clear ratings to help you make a better choice. Additionally, you can find useful educational materials for using VDR software to help get started using a data room.
Recommended for you