What Is a Due Diligence Data Room?
A due diligence data room is secure cloud storage for sharing sensitive data for many parties in M&A deals. It can help store and exchange principal business, legal, and financial documents that can be shown to prospective investors to check and analyze before the beginning of cooperation. An innovative and up-to-date option is flexible, inexpensive, and beneficial compared to a traditional data room.
What to Consider When Choosing a Data Room Provider for M&A Due Diligence?
Compliance with VDR security certifications
Virtual data room provider rating
VDR provider specialty
Customer support functions
Configuring user access and permissions
VDR pricing structure
Leading Due Diligence Data Room Providers
Benefits of Using Data Rooms during M&A Due Diligence
Business Data Security
If you compare virtual data rooms with traditional ones, you will notice a crucial difference in the safety level. Online data rooms exclude any human errors and mechanical mistakes. Virtual data room software compliance with worldwide digital security certificates, that guarantees a high protection of your business data. Exceptionally high-security solutions are implemented to provide 100% safety for the valuable papers you upload. Printing, copying and changing the documents is impossible without your permission.
Global Accessibility
Online due diligence data room is a user-oriented option that simplifies the process of leading your business. You don't need to go to the office to sign some papers or view the necessary transaction details. Virtual data room services are accessible 24/7/365. The constant access to documents is an inevitable part of successful cooperation. The investor can view the necessary data at any moment. Involving many people in the process is the need to have a powerful tool. Communication is possible from any device and at any time. All the documents, files, and transaction details can be discussed, viewed, checked, and sent fast no matter what the seller's and buyer's location is.
Low Running Costs
Some are inclined to believe that due diligence data rooms are affordable only for prestigious corporations. However, this software costs customers less than physical storage. Therefore, the price is another advantage of using the platform. The organization discusses with the VDR provider the required set of functions and negotiates the cost.
Acceleration of Business Processes
M&A data room providers take on tasks that once prevented parties from focusing on more important things. Users of deal room software access files repeatedly, quickly find documents, use the automatic indexing function and create reports with a few clicks. The users can approve and edit documents online. This reduces the amount of time-consuming paperwork. VDR allows you to establish navigable content, full-text search, and directories within your virtual deal room. A simple document search saves at least 20% of the time in the due diligence process. Artificial intelligence organizes all content properly. Users make no effort to do that. The program tracks each change and automatically saves them.
Ease of Use
In addition to the mentioned features, an overwhelming majority of virtual data room service providers will also offer beneficial record activity, last-minute bidding, new information distribution, and a range of other options, which will contribute to the convenience of data service usage.
Complete Data Control
Reduced risk for investors. The constant access to documents is an inevitable part of successful cooperation. The investor can view the necessary data at any moment. Thus, one of the main purposes of data room due diligence creation is to minimize the risk concern and guarantee safe cooperation, based on mutual trust and understanding.
File sharing services are still popular among organizations. They are used both for transactions and on an ongoing basis. The information below provides a brief description of the data rooms and reveals why the new software is taking the lead on the market.
How to Use a Virtual Data Room for Due Diligence?
Before you start the process, make sure your data room for due diligence is well-organized and ready for an upcoming process. There are several main stages of preparation of a virtual data room for due diligence.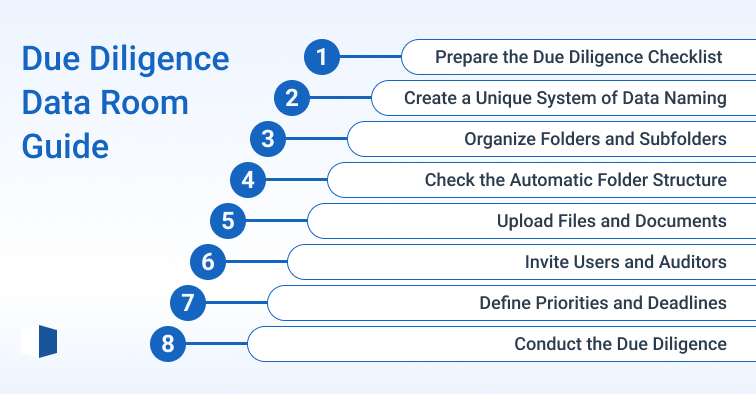 Prepare a Due Diligence Data Room Checklist
The data room checklist or data room index is a list of documents that should be operated during the transaction. You should prepare all the files and documents that you will upload to the data room for conducting online due diligence.
Create a Unique and Authentic System of Data Naming
This first step is simple yet essential. No matter what data room you select, each one will offer you to name your files. Contracts, transactions, and similar ones, generic names may further confuse you, making the search more complicated. Therefore, the company should develop a unique document naming scheme while working with a due diligence data room. Mind the document's type, some specific elements it includes, such as relevant departments or parties. Use clear naming for files and documents in the virtual data room.
Organize Your Digital Data Room for Due Diligence
Data room structure is the hierarchy of folders in which you will upload the data. The structure should be convenient and understandable for users that will take part in an inspection process. Virtual data room structure depends on the size of a company and due diligence goals. Such data room vendors as iDeals, DataSite, Intralinks, and Citrix, propose the templates for your data room using which you will get an efficient and ready-made structure. If you need to develop the structure yourself for some reason, it should be done before you start to upload the files and documents.
Check the Automatic Folder Structure
A secure virtual data room is a perfect option, which allows all the uploaded files to reside within the cloud. Therefore, the data are accessible from any spot and at any time. However, proper organization and management will help you control all the processes within a data room. Create folders for HR, accounting, financial transactions, and other deals. You can create a subfolder within each folder, specifying the same material included in it.
Upload the Necessary Data
Each data room provider offers different options for uploading the documents. For example, iDeals, Intralinks, and Datasite offer the ability to download several gigabytes of different files at once since such data room providers as Box, Onehub, and Digify require downloading documents one by one. You upload to the virtual data room all the necessary documents for study in the process of due diligence. Regularly update information. With iDeals VDR, as well as other data room providers, updating your information is simple. The data preserved in the data room should reflect a real state of things in the company. For investors and other partners to get accurate and up-to-date information, it is necessary to correct all the details and specifications within the presented documents.
Invite the Users and Auditors
One of the final stages is to invite users that will be involved in conducting due diligence. The administrator of the data room sends the secure invitation link according to which participants access the data room. Before access users will follow two-factor authentication. The administrator can easily configure limited access to certain documents in the virtual data room and track all users' activity. Invited users receive access rights granted to them by the data room administrator.
Determine the Priorities and Deadline
It is one of the organizational issues that you coordinate with your partners and employees who participate in the due diligence process. Prioritization will help you get the most up-to-date due diligence process. And coordination of terms – will help you unify your work processes and calculate the costs of using VDR.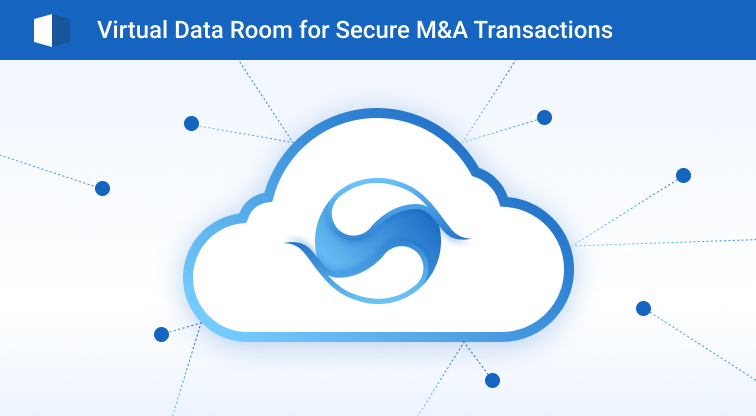 Why Do You Need a Virtual Data Room for M&A Due Diligence?
Once your company is on the way to merging or acquisition, a virtual data room for M&A is the first thing you will need. The main question that occurs during the process is associated with documentation. The representatives of the company have to deal with a whole bunch of documenting issues, including property lists, financial items, contracts, insurances, information about suppliers and clients, etc. Using virtual data rooms for mergers and acquisitions facilitates the transactions between several participants located in different parts of the world. M&A data room has a unique structure of folders and subfolders that accelerates the process of communication between the parties.
Due Diligence Types
– M&A Due Diligence
– Financial Due Diligence
– Human Resources Due Diligence
– Management Due Diligence
– Asset Due Diligence
– Tax Due Diligence
– Customer/Sales Due Diligence
– Intellectual Property Due Diligence
– Administrative Due Diligence
– Legal Due Diligence
Using a physical data room is not relevant anymore. Human errors and automatically made mistakes cannot arise during vital business agreements or transactions. At this point, Intralinks and a range of similar providers offer an impressive solution. Completely automated, with no human interference, due diligence virtual data room will improve your business. Completely confidential, 100% safe and secure iDeals data room will allow you to store, view, and share valuable info with potential investors in the most beneficial way.