Leading a business, you need to be aware of all the processes and transactions within your company. For that purpose, data room due diligence is one of the best choices. When it comes to documents related to confidential information, legal issues, or important transactions, it is vital to ensure a high level of security and trust.
Virtual data room for due diligence is the best solution for accelerating complex transactions. But making the first steps toward digitizing collaborative workflows is always a challenge. In this guide, you will explore all the fundamentals of data room due diligence, find out which tools and services will benefit your project, and learn how to find a fitting data room.
Best data rooms for due diligence
What is a due diligence data room?
A due diligence data room is a software solution for various tasks associated with due diligence. Based on the idea of an elevated physical deal room, data rooms allow storing confidential data, communicating with others, and making key decisions faster.
A data room is a space that contains the company's documentation, such as employee contracts, policies, financial statements, vendor contracts, etc. Traditional data rooms, also known as physical data rooms, are essentially segments of the headquarters or regional offices that contain filing cabinets and meeting facilities.
But as the global corporate words began shifting towards digitization, physical data rooms were no longer practical. That's when virtual data room technologies started to rapidly gain popularity.
Since due diligence is among the most popular uses of data room software, a due diligence data room is a solution designed specifically for this purpose. It streamlines, speeds up, and smoothes any interaction between external auditors and third parties during due diligence.
How much does a due diligence data room cost?
The price of a data room strongly depends on every provider's pricing policy as well as the specifics of your project. The charges may vary from $99 to well beyond $500,000 based on the number of documents and other parties involved in the audit process, duration of use, and the features the software delivers.
Top 5 challenges of due diligence
Some might argue that the shift to due diligence software isn't as necessary since companies managed to successfully process deals before. But there were several substantial disadvantages of old-school deal processing that existed up until VDRs went mainstream in the early 2010s:

Time consuming procedures
Data security
Increased documentation volumes
The number of participants
Compliance requirements
1. Time consuming procedures
When the due diligence process took place in physical data room spaces, it could've lasted months and sometimes even years. Back in the day, you would need to be present at the seller's location to review documents, discuss key points of the deal, and arrive at a mutually beneficial decision.
Considering that many due diligence participants are busy executives, their schedules are hard to synchronize. So while document review on its own took a good deal of time, arranging it was only adding an extra level of complication and inconvenience.
2. Data security
Due diligence data contains a lot of confidential information. Containing sensitive documentation in physical storage poses risks of accidental destruction, exposure to unsolicited viewing, misplacements, and more.
Essentially, the integrity of any physical paperwork is as strong as the key and the lock that guard them. And even with the sophisticated security gadgets we have nowadays, the risks of human error and internal espionage are still high.
3. Increased documentation volumes
Regardless of the project you are in charge of, if you are considering using a virtual data room, then chances are you need to manage large volumes of various files. Not only does it take longer to analyze printed documents, but you will also need to spend some time and effort on locating the necessary paper in the first place.
The archaic approach to document management is a filing cabinet system with an index. And it only works in a perfect world where everyone who accesses the cabinets uses them according to the guidelines.
4. The number of participants
Depending on the size of your target company and the type of project you are handling, there can be anywhere from two to a hundred or more people involved in the process.
In physical data rooms, allowing multiple interested parties to review the same due diligence documents simultaneously is nearly impossible without making copies. And copying sensitive files is highly undesirable as it increases the data vulnerability.
5. Compliance requirements
Finally, every industry has a set of rules and standards to comply with when it comes to data handling. For instance, due diligence legal professionals and their professional conduct are regulated according to the respective state's administration.
Similarly, companies that operate in capital markets respond to SEC's regulations and healthcare institutions — to HHS's. Ensuring pristine compliance manually is not an easy task, especially for large-scale organizations.
Important virtual data room features for due diligence
To be effective enough to facilitate various tasks, a data room has to deliver a combination of both basic and advanced features. Below are the descriptions of tools you should look for when comparing virtual data room providers.
Security
A virtual data room ensures that your sensitive data stays shielded from all types of malicious activity, internal errors, and accidental unsolicited exposures. Information protection is typically achieved through a combination of failproof data processing facilities and innovative software solutions.
Must-have security features
– Security compliance with industry-wide standards, such as ISO 27001, SOC 1 and 2, HIPAA, FISMA, and others
– Two factor authentication
– Dynamic watermarking
– Configurable access rights
– Remote shred and access revocation
Document management
Data rooms allow you to store and easily access hundreds of files. However, manually managing and organizing the documents can be time consuming. That's why it is extremely helpful when the data room software provides tools for intuitive arrangement and automates repetitive processes.
Must-have document management features
– Automatic index numbering
– Integrations with third-party platforms, such as Google Drive, Google Docs, Outlook, etc.
– Bulk uploading and downloading
– Compatibility with various formats
– Full text search
– Free due diligence data room checklist
User management
Data room administrators must make sure that all the transaction participants have appropriate rights to retrieve the necessary information and deliver on their responsibilities. Access management is most effective when the data room software allows several levels of user privileges and document-specific settings.
Must-have user management features
– Granular user permissions
– Individual and group settings
– Configurable notifications
– Bulk invitations
Accessibility
One of the main advantages of an online data room over physical space is that required documents can be retrieved a lot faster and more conveniently. The ability to log in to the data room from any device and location substantially accelerates complex deals and allows all contributors to perform more effectively.
Must-have accessibility features
– Web-based user access
– Compatibility with Android and iOS mobile devices
– Built-in translation
Usability
Virtual data rooms are supposed to speed up and simplify due diligence. That's why you and the other users working on the project should never have a hard time navigating the software and completing necessary tasks.
Must-have usability features
– Intuitive interface
– Customizable layout
– No-plugin deployment
– Scroll-through or swipe document viewing
Customization
Adapting the due diligence data room to match your company's image adds another layer of professionalism to the project. On the one hand, your colleagues will have an easier time getting used to the new software. And on the other hand, all external visitors will build stronger loyalty toward your brand and positioning.
Must-have customization features
– Customizable terms of access
– Brand colors and logo implementation
– Flexible feature settings
– Adjustable branded watermarks
Communication
The data room software you pick has to offer several solutions for communicating with other project participants within the platform. This includes establishing private chats, connecting multiple people through conference calls, and sending emails without logging out.
Must-have communication features
– Built-in Q&A for data room due diligence
– Task management tools like reminders, actionable items, and labels
– Secure connection with external contributors, such as auditors, legal advisors, and other professionals
– Calendar synchronization
Reporting
Advanced virtual data rooms offer analytics and reporting instruments to supply you with valuable insights on how your data is handled. These tools track each user's activity and generate informative summaries of overall engagement, deal progress, and more.
Must-have reporting features
– Detailed activity tracking
– Customizable infographic reports
– Automated engagement and performance analytics
Customer support
Even the most sophisticated online data rooms malfunction from time to time. But although finding faultless software is impossible, you can ensure your project's success by going for a provider that has excellent customer support.
Must-have customer support features
– 24/7/365 availability
– Ability to communicate in multiple languages
– Single POC resolution
– Several communication channels, such as live chat, phone, and email
How to choose a virtual data room for due diligence?
To ensure the top security and organization for your sensitive documents, the best solution is to go with the industry leaders. But how do you narrow down the best of the best?
1. Define your requirements
The best virtual data rooms typically cater to specific company types and projects. This allows the developers to be confident about the quality of their technology and services. That's why the first stage of your research is clearly outlining your expectations and needs.
Below are four categories to help you navigate your requirements easier.
Company's or project's specifics
Start by listing the basic info, such as your company's size, the industry of operation, and the number of people involved in every project. Then zoom into the particular pieces of data that will need advanced protection, such as intellectual property, research results, patented technologies, and so on.
Think of the way you are handling business transactions now and think of all the tools that could have made them smoother and more efficient. In case your company is new, refer to the above section on the key virtual data room features for due diligence.
Some providers offer virtual data room services beyond the software capabilities. These range from simple administrative tasks to tailored advisory and guidance. Small and medium businesses can largely benefit from such assistance due to lacking staff or expertise.
Pricing is very likely going to be one of the most challenging aspects of your data room provider investigation. A lot of providers form personalized quotes for every new client based on the type of project, amount of corporate documentation, number of users, etc. But with that said, you still should outline the budget range for your VDR investment to simplify the search.
It is also a good idea to consult with the rest of your team to make sure everyone is on the same page regarding the software requirements. Gather a team meeting to brainstorm ideas or connect with your partners to ask which data room solution, if any, they use at their company.
2. Shortlist the providers
Once you know what to look for, start browsing providers' websites to see if they match your criteria. Pay particular attention to:
An advanced virtual data room for due diligence is more than just an online repository. Modern providers go the extra mile to enhance their users' experience by delivering tools and solutions for specific industries and cases.
For example, there are data room providers for M&A due diligence that have extensive expertise in assisting M&A deal participants. Similarly, other providers choose to work with governments, non-profit organizations, educational institutions, and so on.
Experience with similar cases
On top of focusing on certain industries, providers can also choose to deliver tools only for specific projects. This way, one virtual data room software can be a perfect solution for collaborating with multiple parties, while another is a one-stop shop for corporate development.
Look at what instruments each provider can guarantee for the price you will pay. This includes security features, accessibility, advanced tools, and additional services. Keep in mind that even if the provider meets your demand at the moment, you might need additional tools in the future, so going with a more abundant feature offer can be beneficial.
Make sure to research recent user feedback across several independent review platforms. Focus on specific testimonials that described how the software managed the necessary documents, what was the quality of support, and whether data room developers are true professionals who are always looking to improve their platform.
3. Compare ROIs
Once you have the price quotes from the shortlisted providers, evaluate how each software will help you save time, maximize efficiency, cut costs, and improve internal transparency. The rough combination of these factors will give you the general idea of the value of every provider and judge whether it is worth the money they are asking for.
4. Request free trial periods
The majority of established data room SaaS providers will allow you to use their software in a trial mode for anywhere between a week to a month. During this time, do mock-up runs of the essential due diligence processes, such as checking the documents according to a due diligence checklist.
Free trials are also a great time to raise concerns and let your administrator begin setting up for the upcoming transaction.
5. Negotiate the terms
Complete your selection process by comparing how each provider will accommodate your project's needs. This can be anything from creating an industry-specific due diligence checklist to helping you set up and manage your data room.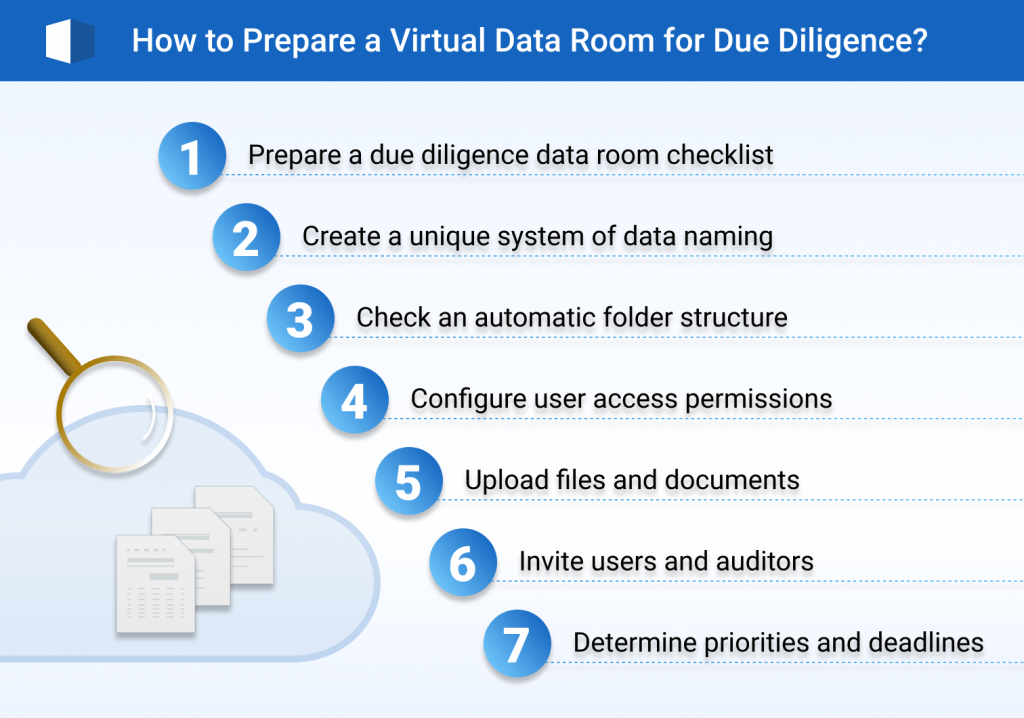 Best practices due diligence data room
Follow these tips to get the most out of your due diligence data room experience.
Create digital copies of all the documents before you begin setting up the virtual data room. In case you are planning to keep the physical copies as well, create a corresponding index system to locate the correct counterparts faster.

Duplicate your team's hierarchy when creating user roles and assigning rights. This way, nobody will be confused about what they are supposed to do.

Don't skip on the team training offered by the provider and request some additional sessions if necessary. Keep in mind that your senior co-workers might have a harder time adjusting to the new way of handling business, so ensure they get all the needed resources to get on board effectively.

Invest some time into an easy-to-understand and uniform file-naming system. Take advantage of folders, subfolders, and labels to categorize data even further.

Once the due diligence stage is over, rearrange the virtual data room to accommodate the next phase of the same deal. For example, data rooms are great for integration teams to develop compound strategies or for operations to manage their day-to-day.
Getting started with a virtual data room for due diligence
Preparation is essential to ensuring your virtual data room for due diligence will run successfully and reduce even the slightest possibility of security risks. Here are nine steps you should take to begin using a due diligence data room.
How to prepare a virtual data room for due diligence?
Once you find a fitting provider, launch your data room, create a comfortable folder structure and upload the required documents. The next step is setting up access permissions, inviting the authorized users, and ensuring everyone is prepared for the integration with the new tool.
Step 1. Choose the fitting due diligence data room
Use the suggestions from the above section to find a provider that meets your requirements. Remember that the data room you go with is meant to reduce the stress associated with due diligence, so you must be entirely comfortable with your decision before you proceed.
Step 2. Discuss payments and sign the NDA
Virtual data room providers take several approaches when it comes to pricing. Some of the most common cost-formation models are:
Fixed monthly packages
Per-user charges
Storage volume based
Per-feature
Additionally, the final price may vary on the frequency of payment you select. Long-term agreements are often offered with substantial discounts, which is a great solution for projects that will last over a year.
Pick the pricing model that works best for you and sign any required documents to start working with the software.
Step 3. Prepare a due diligence data room checklist
Create a detailed list of all the documents you will need during the due diligence process. The easiest way is to categorize them by department, such as financials, legal, HR, etc. Ask your provider if they can share a template checklist to ensure you don't miss anything.
Step 4. Create a logical data room organization structure
A data room for due diligence is the most effective when it's accessible, intuitive to use, and well-organized. Base your data room structure planning on the timeline of upcoming collaboration, dividing the documents by department, function, or level of confidentiality.
The automatic folder structure feature can help you set up the data room with higher efficiency. This approach is typically available through experienced providers who have dealt with similar cases before.
Further down, you will find some practical advice on creating functional due diligence data room structures.
Step 5. Upload files
Fill the folders with content, following your own or system-generated data room index. Make sure that confidential information is segregated from the rest of the data and has appropriate protection mechanisms applied.
The due diligence data room checklist will help you prepare and gather all the necessary files before they are requested.
Step 6. Set up access permissions
To ensure secure document sharing and control the overall data room activity, assign task roles based on each user's function. Some providers will allow you to create group rights settings that significantly simplify granting access to entire departments or particular categories of professionals, such as accountants or investment bankers.
The essential stage of the rights assignment stage is the review process. Use the View As feature to make sure each user has access to important information and does not pose any threats to the overall integrity of the data room.
Step 7. Invite internal and external users
Invite all the parties to collaborate in your newly created secure environment of a virtual data room. Ensure to include information on how to access the platform and what devices to use. Take advantage of the bulk invitations feature to easily overview groups of contributors and speed up the collaborative process by getting everyone on board at the same time.
Step 8. Determine priorities and deadlines
Visualize the milestone framework for the upcoming due diligence and send out reminders to the responsible parties to finish their duties on time. You can also employ the VDR reporting feature to track engagement and completion across all departments and other contributors.
Step 9. Ensure regular data room content maintenance
Although it might seem that your job is done once you have uploaded important documents and invited the users, you will have plenty of tasks to attend to. Start fulfilling requests from project participants by adding and removing documents, ensuring everyone has appropriate access rights, and monitoring the engagement.
Invite more users to engage in the data room administration process in case you are dealing with a particularly large project or multiple transactions at once.
Tips on creating an effective virtual data room structure for due diligence
Let's take a closer look at organizing data inside your due diligence virtual data room in a logical and convenient way. Your main task at this point is to create a structure that will allow the deal to progress organically and assist users with finding the required documents faster.
What is the virtual data room structure?
Virtual data room structure is essentially a skeleton of your data room platform. It consists of folders and subfolders that help organize files, segregate different parts of the project, and create an agile workflow.
There are two general approaches you can take when planning the internal structure of your virtual data room – bottom-up and top-down.
The first technique requires you to take a big-picture look at all the files you have to organize and then group them by certain criteria such as confidentiality level, department, deal stage, etc. This is a suitable solution if you are only using the data room for due diligence and don't need to take care of any other work processes.
The top-down approach is more common as it allows you to systemize data regardless of your project or company size. What you need to do is create main folders that will correspond with particular types of information, project stage, or department. Within those, create subfolders to further divide the files into easy-to-navigate structures.
Here is an example of using the top-down approach for systemizing due diligence data.
Main folder: Company A acquisition 2023: Due diligence documents
Subfolder: Financial

Sub-subfolder: Year-to-date tax reports
Sub-subfolder: Audited financial statements
Sub-subfolder: Unaudited financial statements
Sub-subfolder: Liabilities and obligations


Subfolder: Legal

Sub-subfolder: Business licenses
Sub-subfolder: Permits
Sub-subfolder: Outstanding disputes


Subfolder: HR

Sub-subfolder: Employee contracts
Sub-subfolder: Compensation model
Sub-subfolder: Policies
Sub-subfolder: Onboarding documents


Subfolder: Intellectual property

Sub-subfolder: Issued patents
Sub-subfolder: Pending patents
Sub-subfolder: Copyrights
Sub-subfolder: Trademarks


Subfolder: Commercial

Sub-subfolder: Marketing strategies
Sub-subfolder: Customer profiles
Sub-subfolder: Suppliers
Sub-subfolder: Current market share
Take your time to create the most practical virtual data room structure for your case. You can also invite other opinions to evaluate the layout prior to launch.
Who benefits from virtual data rooms?
Data room services offer limitless opportunities for individual professionals and businesses of all sizes and industries. Advanced data room solutions are flexible and equipped enough to accommodate even the most intricate procedures, such as multi-partner M&A or corporate restructuring.
Industries that rely on virtual data rooms
Virtual data rooms are irreplaceable for companies that need to store and share sensitive data and process multi-leveled research or financial transactions. While this virtually applies to any organization, the industries that use VDR solutions the most are:
Virtual data room use cases
As already mentioned, virtual data rooms have plenty to offer for most deals and projects. But there are several applications that stand out the most.
Mergers and acquisitions
Virtual data rooms for mergers and acquisitions help centralize and streamline processes at every stage of the transaction. The M&A teams virtually gather to review documents, strategize, negotiate, and apply post-deal integration techniques.
Fundraising
For fund seekers, whether they are a startup or an expanding enterprise, a virtual data room is the most convenient way to organize all information and people that contribute to the fundraising process. At the same time, investors view the data room approach as more professional and considerate of their time.
Initial public offering
Going public requires an extensive preparation period, most of which is assembling the necessary documents to pitch to investment banks. Once again, virtual data rooms come in extremely handy for organizing intense amounts of data and keeping all communications centralized within one space.
As you might have noticed, the complex deals described above rely on the quality of due diligence. That's why, while data rooms do a great job at facilitating portfolio management and board communications, due diligence is one of the primary use cases for this software category.
Due diligence virtual data room benefits
Due diligence data room software tackles all of the challenges described in the previous segment. And as the technology progresses, deal processors continue to discover new advantages of moving their operation into the digital space.
When do you need a virtual data room for due diligence?
A virtual data room is an irreplaceable tool, regardless of the number of due diligence documents on your hands. The software allows the required cost effectiveness and improved time management to effectively communicate with the acquiring company and be in control of every stage of the deal, from initiation to post merger integration.
Below is a brief summary of the advantages a due diligence virtual data room can offer to help you navigate and streamline complex procedures.
For founders and directors
Credibility among potential buyers and investors is high. Cooperation promises to be comfortable and safe, so partners with vdr owners are always more willing to conclude deals.
Access control. It means that no third party can use data. Administrators oversee all attendees and content on the platform. An up-to-date information security system helps managers prevent intruders or hackers from interfering.
Management of permissions. Confidentiality plays a large role in due diligence. Opening all documents to all users often leads to a leak. Therefore, the developers came up with a system of access levels. For example, investors or lawyers have the same powers as the directors of the company themselves. At this time, ordinary employees see only the data that they need to work. This approach guarantees protection from both third parties and unscrupulous colleagues.
These functions enable company managers to maintain control at every stage, being aware of all events.
For everyone on the platform
The electronic data room saves time. Unlike paper format, all relevant individuals do not rummage through documents to find something. Search tools do this job in seconds. It is enough to enter the file name (or keywords from the content).
Automatic organization of documents. The store organizes all the data on its own, so there is no need to do it manually.
Ease of use is one of the most attractive features of the vdr. The developers have made sure that even beginners feel like confident users.
Update versions. The program records and saves all the changes made. If a user makes corrections offline, due diligence software records them immediately after connecting to the network.
For security. Watermarks are unique marks in the form of an organization name, IP address, or other information. Their purpose is to make it easy to trace data breaches. They cannot be deleted or edited.
A built-in nondisclosure agreement obliges investors and other visitors to follow particular rules. Access to the data is not possible without the consent of the other party to these conditions.
Faster processing
A virtual data room simplifies due diligence process by allowing contributors to connect remotely. Moreover, each document can be retrieved in a matter of seconds, which allows decision-makers and other participants to focus on the content sooner.
Data rooms also allow adding new users as the deal progresses, seamlessly archiving outdated files and performing activity analysis for more effective governance.
Workflow centralization
Virtual data room software brings all the project-related communication together. With the right platform, you will have all the necessary integrations to converse, exchange data, schedule events, and more.
Cost effectiveness
Even the expensive data room providers are generally more cost-effective than a traditional data room solution. The lower cost is associated with paperwork digitization which reduces your spending on:

Printing and distribution of documents
Real estate expenses
Data room employee salaries
And while the financial aspect isn't the primary reason to switch to a due diligence virtual data room, along with the advanced convenience and escalated environmental awareness, it creates a solid argument.
Access convenience
As already mentioned, a physical data room requires anyone from administrators to stakeholders to travel to a specific location to access data. Virtual data room users, on the other hand, simply have to log in to the platform to effectively contribute to the project.
Increased security
Most modern data room providers take the necessary security measures to protect financial documents and other confidential records from all potential risks. Some of them will also allow you to be in charge of how certain features are executed, which will allow you an extra level of confidence.
VDR vs free file sharing platforms for due diligence
Due to the fact that due diligence is a process that relies on document storage and sharing, some people believe that this can be achieved via public-access file exchange solutions. However, virtual data room technology has several substantial advantages over such tools, as it was particularly developed for handling sensitive information during complex transactions.
Below is a summary of the advantages and disadvantages of both virtual data rooms and free file-sharing platforms.
| | |
| --- | --- |
| Virtual data room | Free file-sharing platforms |
| Data rooms allow you to share confidential documents within the platform itself. | Standard features allow fast and hustle-free file-sharing. |
| Granular access permissions ensure that each user has personalized rights. | Most solutions are simplistic enough to be user friendly for all types of users. |
| Data analytics can help to make an informed decision and process the deal faster. | Document sharing can not be regulated due to external links. |
| Data room technology undergoes strict regulation and compliance. | The only way to protect documents is by assigning access rights based on one credential, such as an email address. |
| Virtual data room providers supply plenty of features beyond document storage. | The integrity of public access platforms is often compromised. |
| Implementing the data room can take up some time for companies without previous experience. | Due to an extensive number of customers, tailored support is impossible. |
| Virtual data rooms cannot be free. | While the basic capacity is usually free, expanding data storage and adding other features costs money. |
Why do you need a virtual data room for due diligence?
Running a business in the modern world can be either a serious challenge or an easy thing. The choice is up to you. Data room M&A, due diligence, and other important processes can considerably simplify your task, granting extra reliability and safety.
Virtual data room simplifies due diligence process
– M&A Due Diligence
– Financial Due Diligence
– Human Resources Due Diligence
– Management Due Diligence
– Asset Due Diligence
– Tax Due Diligence
– Customer/Sales Due Diligence
– Intellectual Property Due Diligence
– Administrative Due Diligence
– Legal Due Diligence
Using a physical data room is not relevant anymore. Human errors and automatically made mistakes cannot arise during vital business agreements or transactions. At this point, Intralinks and a range of similar providers offer an impressive solution. Completely automated, with no human interference, due diligence virtual data room will improve your business. Completely confidential, 100% safe and secure iDeals data room will allow you to store, view, and share valuable info with potential investors in the most beneficial way.
We use cookies on our website to ensure the best user experience. By clicking "Agree" you are letting us use cookies according to our cookie policy.
Learn more