Software Details
Free Trial
14 Days
---
Free Demo
-
---
Deployment
SaaS
Web
Cloud
Linux
Android
Windows
iOS
---
Support
24/7/365
Local Centers
Live Chat
Email&Phone
Online Help Center
Personal Manager
---
Training
Live Trainings
Webinars
Live Online
Documentation
In-person
---
Interface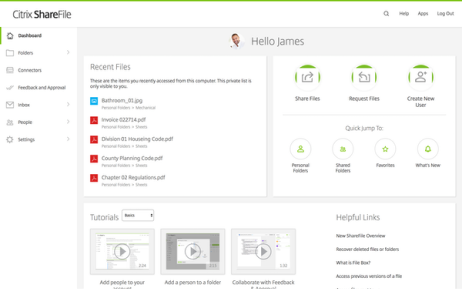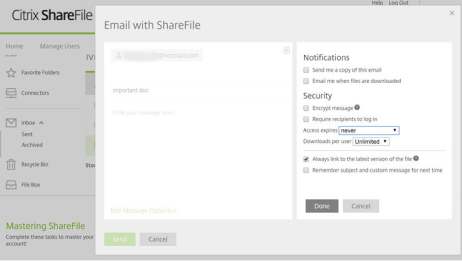 Citrix data room review
Citrix Systems, Inc. is an American multinational organization that provides networking software as a service (SaaS), and other cloud computing technologies for organization company workflow in a digital space. It was founded in 1989 in Texas. Citrix provides several software applications for business needs.
Citrix ShareFile, headquartered in Raleigh, North Carolina, USA,  had operated since 2005 as a secure and convenient data storage and exchange platform. In 2011, Citrix Systems acquired ShareFile, adding Citrix ShareFile data room to their wide range of collaborative workspace products. Citrix ShareFile (Workspace) is virtual data room software that is orientated on middle and large-size company sizes. It provides a range of business services that support the work of companies through a cloud platform and ensure the safety of their instruments.
The Citrix data room service includes secure document viewing solutions, click trailing reports for transparent deal flow observation, and file check-outs for updating a document in no-access mode.
Citrix virtual data room security protocols and technologies are audited according to SOC 2 and SSAE 16 standards. Citrix ShareFile combines virtual and physical security and offers many data-protection features, such as 256-bit SSL encryption, two-factor authentication, and single sign-on. The Citrix data room customer support team is available 24/7 by chat, phone, or email.
Citrix Sharefile (Workspaces) is ​trusted by over four hundred thousand directors around the world. That is the reason today's product satisfies all industries of medium and large businesses. The developers continue to improve to enable each office to focus on core goals. This data room provider is ​​a popular tool in real estate, private equity firms, and financial advisors. Although these are not all users of the vdr, the ones listed share some common characteristics. 
The VDR software automatically synchronizes, allows for bulk uploads, offers backup. Each instrument that is necessary for dealing with documents is available here. The Q&A module is a facilitator of communication between colleagues in daily work and during transactions. The ease of communication in Citrix Virtual Workspaces is another option that customers find convenient and useful. Citrix Sharefile is ​​one of the most expensive tools online on the market. Based on the reviews, the product matches its price in terms of quality and number of functions. By filling out a short form on the provider's website, everyone can take advantage of a 14-day free period.
Pricing
Citrix ShareFile pricing: The Citrix virtual data room offers a flat fee pricing model starting from $375 a month. Users receive a 10% discount for paying annually. The Citrix ShareFile price is on the higher side compared to other virtual data rooms that cater to small businesses. However, for medium-sized companies, Citrix ShareFile is on par with its competitors. In order to get prices for their services, you must fill out a special form on their website and provide some information about your company to calculate the cost. In order to obtain information about tariff plans, prices, and services, users need to contact the sales department or contact the site manager to get all the necessary information about the virtual data room. According to customer testimonials at special internet sites, Citrix is a high-priced software product.
Features
How many GB do you plan to upload to the virtual data room?
x
How many users will be in the data room?
x
Which support language do you need?
x
What do you need a data room for?
x
Do you need a free trial?
x
Find the Best Data Room for Your Needs
Choose the services you need
x
Your Top Choice is

IDEALS VIRTUAL DATA ROOMS