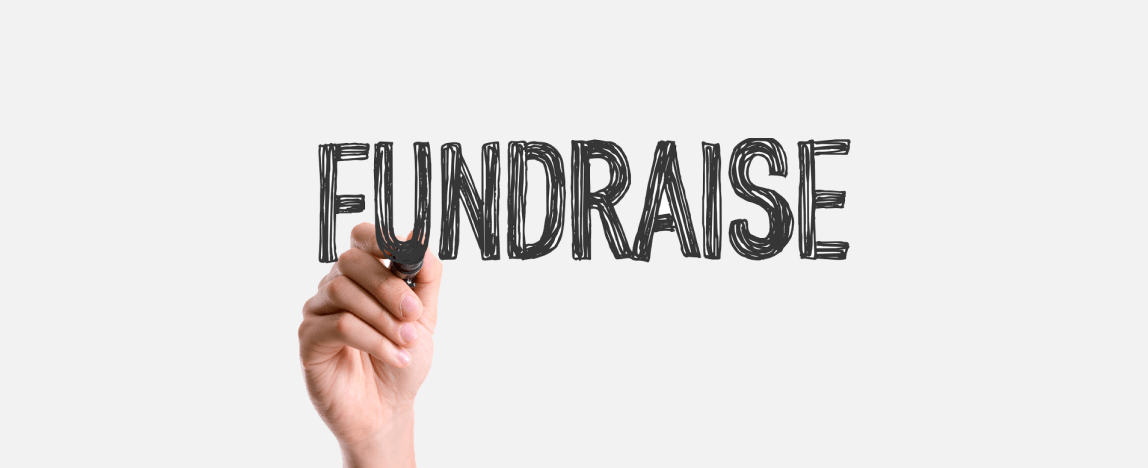 Fundraising can be a tough job most of the time; you have to take care of your pitch and focus on the nitty-gritty details to avoid any turbulence in the future.
Virtual data rooms can streamline the entire process of your fundraising campaigns. Also, if you want to show your potential investor just how capable your firm is regarding fundraising campaigns, making a virtual data room can be really impactful.
What is fundraising data room software?
Gone are the days of tampering with records, virtual data room software eliminates this threat from its roots.

Virtual data room for investors allows your campaign to operate under full authenticity, without any discrepancy. Fundraising data room software allows you to look after each stage of your fundraising campaign and lets you share documents with investors in real time. End-to-end encryption ensures that no unauthorized party can access these documents as only the allowed participants can view, edit, and delete any files.
Who uses VDRs (Virtual Data Rooms) for fundraising?
Startups that deal with prospective investors to raise funds have to utilize virtual data rooms. Such dealings often require complete transparency, and, in the case of fundraising, you need to be able to share your confidential information with prospective investors. This is where virtual data rooms come in handy for fundraising campaigns.
Virtual data rooms simplify this entire process by allowing the other party to look over your files, instead of dealing with them physically. This saves your prospective investors time and resources.
Why consider a virtual data room for fundraising purposes?
Virtual data room software provides major benefits for a lot of different purposes for firms. Here, we'll narrow it down from the fundraising perspective. We'll look at some of the reasons why virtual data room is beneficial not only for investors but also for fundraisers.
Study your investors
You're on the hunt for potential investors, but here's a catch: you have no idea how your prospective investors are in their dealings with others, as well as their previous record. A data room can clear all your ambiguities, by providing you with a bird's eye view of their past dealings.

Along with that, an investor data room can enable you to share vital documents such as financial records, growth records, information regarding intellectual property. This will timely enhance your chances of securing a deal with your investor for the fundraising campaign you've planned.
Share information securely
All interaction between the two respective parties is done within the means of secure channels, such that no data can be stolen, tampered or deleted. Plus, end-to-end encryption only enables the authorized personnel to access the data room at a given moment.

Most of the data room software in the market provides different permission levels, such as admin, moderator, staff, and visitor. Each level has varying accessibility to the data room. But the main guarantee of data security is the established data room security standards that the best providers comply with. But the main guarantee of data reliability is the availability of security certificates for the virtual data room.
Along with that, you can control how the respective client views your data, you can choose to restrict downloading of the documents, enable DRM to phase out any possibility of screen capturing, disable their ability to print, and at last apply watermarks to your documents. Your confidential information can never be at risk whilst using virtual data room software for fundraising.
Make collaboration convenient for everyone
The data room can allow multiple parties to collaborate together or individually at a given time. This allows you to create one instance of your data room and share it with prospective fundraisers, eliminating the cost of tedious paperwork. All interested parties can look at your respective data, given that you've allowed them permission to look at it. In this way, you can gather multiple potential investors for your fundraising campaign.
Store and organize your files in the cloud
With the virtual data room, the files you send will reach the specified destination, i.e. the potential investor without any loss or corruption. This is entirely made possible due to the cloud technology which makes sure that the file remains the same for all the users, without overloading your system with access requests.

Virtual data rooms remain speedy and don't bog down your system at all. Plus, you never have to worry about the latest versions of your documents and files. Each file has its own unique check that is used to counter verify the integrity of it. If there's any tampering with a file it is immediately discarded and replaced with an older version of that file. In this way, all the files you'll either send or receive using the virtual data room software will be the latest version of them.

Uploading files to your data rooms is just as easy as copying them from one folder to another, and in this instance, you're just copying them to the cloud. You can drag and drop your files and folders to your data room and later on organize them just the way you want to present them to your potential investor.
Manage requests and follow up easily
Data rooms, together with file and document sharing, make managing requests easier as well. Most of the virtual data room software out there supports this. It basically allows you to pass on and requests to and from other users respectively. With traditional data rooms, it was difficult to do this task as you had to go through lengthy Excel sheets and send multiple emails so that the admin could respond to you and fulfill your request.

Virtual data room simplifies this by integrating the request environment well within the software itself, such that you don't have to open any third-party application to achieve the same thing. You just need to launch a request and wait for the admin to approve your request. It is fast, simple, and effective.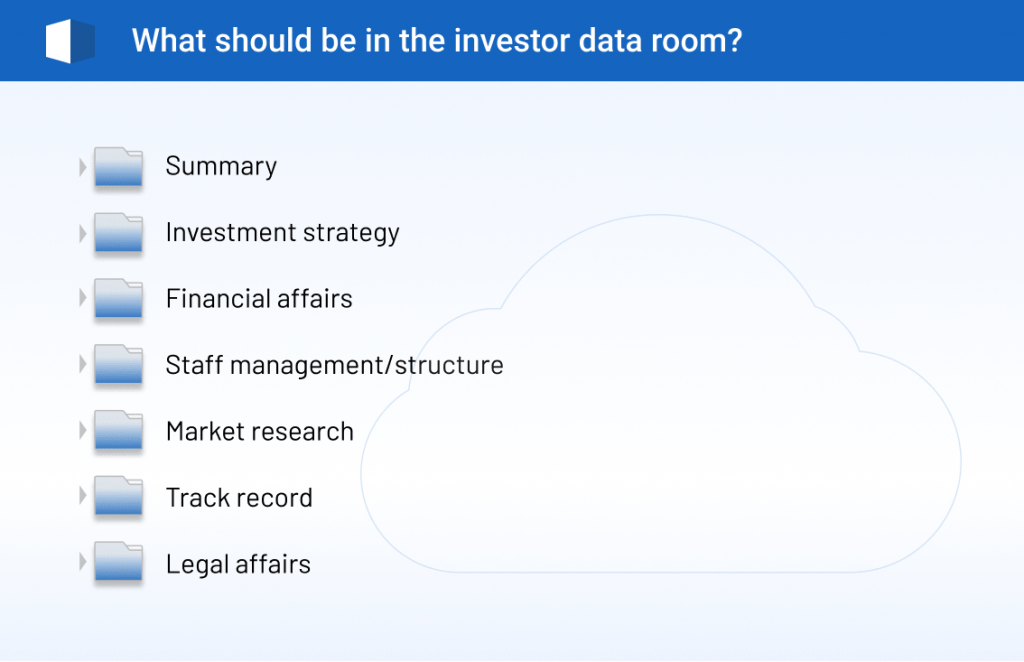 What to look for in a virtual data room software for fundraising?
There are various factors that you'll have to take into account when considering a fundraising data room. Some factors might not apply in your case, such as compatibility since virtual data rooms are maintained over the cloud and can be accessed remotely from anywhere over the world.
However, some of the factors you should keep in your mind before going for a virtual data room are following:
No virtual data room out there provides unlimited storage. Thus, you must opt for a choice that provides reasonable storage capacity that would be sufficient for your firm. A lot of data rooms offer extensions or upgrades to your storage capacity. On the other hand, some of the data rooms have a bandwidth quota as well, therefore, you have to look into that before making a purchase.

Most virtual data rooms have almost the same set of features, but in some cases, there are some crucial features that might be lacking such as the ability to search through the text and collaborative management. However, advanced reporting features like document heatmaps and diligence analytics are always different among the virtual data room software.

Just like the majority of services offered around the globe, most of the data room providers have turned to subscription-based models. This means that you have to pay for the monthly or yearly subscription to continue using them. Subscription plans allow developers to tackle down piracy and improve and upgrade the product at a faster speed. Look for a plan that suits your company's needs and sits well within the budget requirements.

Some subscription models limit the number of users allowed to use the virtual data room. For this, you have to examine your team and find the model that works the best for you.

Multiple levels of user access
Another important consideration you have to make is regarding the user privileges. VDRs allow you to grant exclusive rights to certain users such as the authority to write and modify files, on the other hand some other users are only allowed to browse through the files.
Tips for a successful funding round

Experience and success don't always go hand in hand. You have to stay one or two steps ahead to stay successful. Following are some of the vital tips that can greatly impact your fundraising process and increase the chances of securing a deal:
Keep your objective in the hindsight all the time, and make sure your potential investor understands it.
Make sure to prepare your pitch well beforehand. The moment your client is vulnerable, take it to your advantage and go for the deal.
Always keep your files ready as it can take quite some time to manage.
Setbacks shouldn't make your company stop the fundraising process. You must continue to go forward.
Fundraising process with VDR
Following are the steps you need to set up your data room for fundraising:
Make sure the choice of your data room software is compatible with your workflow.
Devise a file naming scheme with your team and organize all your files in a recognized data room structure.
Control the access to users in your team and do the same for the visiting party as well.
Always generate a unique one-time link to share with your clients.
Keep a note of their interest levels and track their activity time. Store all the agreements in the virtual data room.
What should be in the investor data room?
Here's a checklist of the important files that should be in your investor data room:
1. Summary of your company:
Firm strategy
Disaster recovery plans
Guidelines and vision
Legal agreements
2. Investment strategy:
Investment guide
Voting agreements
Rights agreement
Compliance agreements
Incomplete investment charts
3. Financial affairs:
Profit/loss statements
Projections
Annual and monthly plans
Internal reporting
Budget planning
4. Staff management/structure:
Hierarchy data
Team CVs
Future hiring
Team analysis
5. Market research:
Market reports
In-house market reports
Competitions analysis
6. Track record:
Investment case studies
Deal data sheets
Value creation analysis
Basis for valuations
Track record analysis
7. Legal:
Draft LPA
Finalised LPA
Side letters
In conclusion
The majority of the world has transitioned towards digital mediums to store their vital data, and host fundraising campaigns. Data room software is responsible for maintaining a digital record of your data and allows you to share it with others as well. Gone are the days when tampering with records was possible, virtual data room software eliminates this threat from its roots.
References
Recommended for you