Software Details
Free Trial
10 Days
---
Free Demo
No
---
Deployment
SaaS
Web
Cloud
Linux
Android
Windows
iOS
---
Support
24/7/365
Local Centers
Live Chat
Email&Phone
Online Help Center
Personal Manager
---
Training
Live Training
Webinars
Live Online
Documentation
In-person
---
Software Screenshots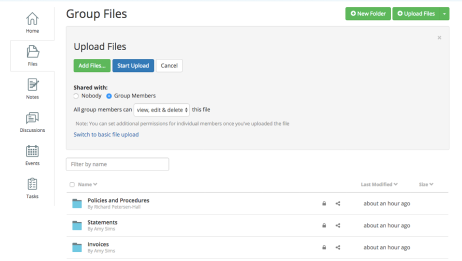 Clinked Company was founded in the United Kingdom in 2011. Clinked virtual data room targets United Kingdom business customers, but from 2018 it is gaining popularity among clients from other countries. It is available in 11 languages and offers customer support within GMT business hours, irrespective of global location. The software is positioned as a user-friendly easy platform and there is IT integration or training for potential customers. The company specializes in building secure networks for the organization's document workflow and digital rights management. Clinked VDR is available to customers of all company size that make a competitive advantage among virtual data room market leaders. This online platform provides a high developed collaboration system for a lot of external software products. The high demand for the product is due to several factors. One of them is the availability to manage transactions, including complex ones. This software is considered to be one of the best for this purpose. The clients are small, medium and large businesses.
Installing Clinked data room on corporate devices is a matter of a few minutes. There are no special requirements for operating systems and device types. Inviting users is easy and fast too. The Clinked toolset is tailored to meet the needs of a company at all transaction stages. The program captures the digital footprint of each participant. In this way, managers monitor the actions of everybody in the process. The access system is under their control. Viewing, printing, sharing of documents is possible only after a VDR administrator's permission. In case of suspicious activity from colleagues or termination of cooperation, access is limited.
The VDR provider has been working for years following the rules and regulations of international organizations. Encryption covers all types of data. Users retain control even over those documents that they have already sent to a recipient. Protection mechanisms against viruses and hackers are active in real-time around the clock. Clinked VDR reports on potential threats. The high level of security attracts clients looking to conclude an M&A or due diligence. It is a reliable and stable platform for both parties, convenient for data exploration and communication. Built-in communication tools reduce live meetings. Directors no longer have to go somewhere to discuss the issue. All they should do is use a secure environment to find solutions together. 
Usually, vendors offer three pricing plans. There are four of them for Clinked customers. The differences are in the storage volume, the maximum number of participants, and the price. The provider is open to discussing needs to tailor the product and help achieve goals set. The potential user, in turn, must identify these targets. The mobile application makes all parties to a transaction available anytime, anywhere. To do this, they only need internet access and a phone. Working with data is possible even without Wi-Fi. As soon as the device is connected to the network, the program will save the changes. Technical support assists in solving problems and finding solutions without interruptions and days off.
Pricing
Starter
Use for: Teamwork Platform for Small Businesses
100 GB Storage
100 Members Included
Unlimited Guests
---
---
Monthly payment
---
Collaboration
Use for: VDR. Providing M&A deals and other deals.
Tasks, Shared Calendar, Discussions, Group Chat
Full-Text Search
1 TB Storage
Custom Domain
---
---
Monthly payment
---
Premium
Use for: VDR. Providing M&A deals and other deals.
250 Members
3 TB Storage
White-label email notifications
---
---
Monthly payment
---
Features
Find the Best Data Room for Your Needs
Choose the services you need
HOSTING LOCATION
Americas
Europe
Asia
International
DATA ROOM STORAGE
Less than 25 GB
25 GB to 100 GB
100 GB to 1 TB
Flexible Storage (More than 1 TB)
NUMBER OF USERS
Up to 10 users
Up to 20 users
Up to 100 users
Unlimited
x
Finding the most suitable software
The Best Solution According Your Needs