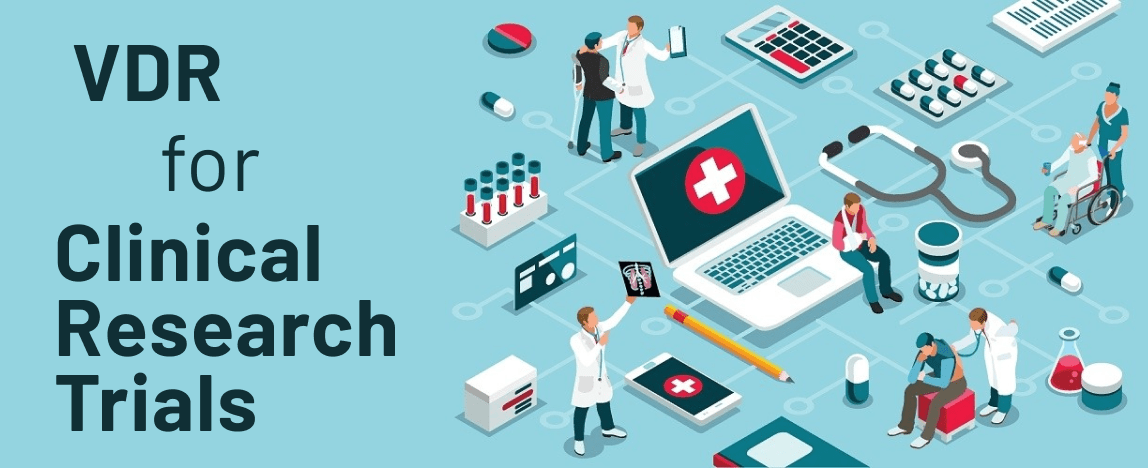 Many clinical research organizations today are faced with the challenge of having a large amount of data. Stringent privacy rules for storing and sharing that data further complicate the management of all those files.
However, virtual data rooms can save the day for organizations that carry out data-heavy projects. VDRs are specifically designed to secure large quantities of data, help with organization and management, and ensure security regardless of the data size and privacy needs.
Thus, a VDR can aid clinical research organizations in managing and sharing information across numerous groups within and outside the organization in a secure way.
Privacy and security requirements of clinical research
Clinical research data is especially prone to security breaches given the privacy concerns of personal information involved. The title of an article recently written by Caroline Humer and Jim Frinkle that appeared in Reuters says it all: "Your Medical Record Is Worth More Than Your Credit Card to Hackers."
With such quantities of data involved, security firewalls are more prone to attack. This also makes every participating group of the clinical research and subsequent trial vulnerable to a cybersecurity attack. Thankfully we live in a digital era where lots of digital tools and resources are available to enhance security and privacy in clinical research. The security of the virtual data rooms is guaranteed by international electronic data security certificates.
With this imposing threat in view, an optimal reputable system like the virtual data room presents a perfect port of call for the privacy and security needs of clinical research.
Virtual data rooms: The trusted solution
While the security concern of cloud-based virtual data rooms lingers in the air, it's still the most trusted solution for security. Skepticism over the safety of information shared over the cloud, and how hackers can easily steal it, has always been there.
But when we look at the volume of data involved in clinical research, all of that can be lost in a second if the hard drive or flash drive is stolen, corrupted, or misplaced. But data stored in the cloud can never be lost. It's impossible. So despite lingering doubts, the virtual data room for clinical research is a safer option for data storage and transfer.
Furthermore, there is the case of transparency which most clinical research organizations battle with owing to the traditional system they deploy. However, data rooms come with the capacity to improve transparency in clinical trials like login and access surveillance. Built-in features are available to take into account every login and access activity happening in the data room.
More reasons why the virtual data room is a trusted solution
Virtual data rooms can also grant access to specific users. Thus, no unauthorized person or external party has access to the information on the data room other than those with permission.
When it comes to transparency, the virtual data room is unparalleled in its function.
And lastly, the virtual data room can help clinical research organizations maintain a standard way to share information internally and externally with collaborators in clinical research or trials. More importantly, this is done securely and the process is transparent.
According to one paper by the BMC's Journal for Medical Informatics and Decision Making most healthcare and clinical research organizations are facing the challenge of reproducing some of the work done by fellow research institutes due to the absence of a standardized data protocol. A virtual data room resolves this issue.
Tips for choosing a virtual data room for clinical research
When choosing a virtual data room for clinical research, there are some integral factors that must be considered. Data and more data will continue to form the baseline of clinical research. The security of the said data will always be a concern but with a VDR that will be taken care of. Now all you have to do is choose a VDR for your clinical research. Two factors should be considered during this process.
Your team's data-sharing needs
Before employing virtual data room software for your clinical research or trial, you need to be certain of the data-sharing needs of your organization first. You are going to be sharing some of this data, if not all, with some external bodies and that calls for a full knowledge of the needs of your organization.
Determine which members of your team will have unlimited access to particular information and why they will need it before incorporating external bodies. This will help the organization choose virtual data room software that comes with special access permissions to accommodate the data access needs of both the in-house team and external collaborators.
Access to sensitive data
Another important factor to consider is sensitive data. This is connected in part to the data-sharing needs of the in-house team. Once access restrictions are in place, the organization can determine which information is sensitive enough to be redacted. The personal information of patients is especially important and should be maintained at all costs.
Thus, a virtual data room for clinical research with redacted features can protect patients' sensitive information from external parties and grant access to those who need them for the purpose of research.
Benefits of a virtual data room for clinical research trials
Although we've touched on some of the benefits of VDR for clinical research and trials, let's expand on them below.
Security of sensitive information
With lots of information required and a large volume of data that needs to be stored after having sourced it from volunteers, safe data storage is paramount. Volunteers who decided to partake in the trials want the assurance that their personal information will not be disclosed to the public.
With a virtual data room, security is guaranteed with high-end data encryption features as well as access control. In essence, not everyone can have access to information in the data room, thus information from patients or volunteers in the research is kept private.
Revoked access to information
Research organizations might sometimes have internal issues with staff who have been granted access to personal and sensitive information in the data room. A staff member who is obviously pained by the fallout can decide to leak sensitive information to the public and compromise the privacy of sensitive data.
With a VDR, access rights can be revoked at any time, allowing flexibility with security that can fluctuate with any given situation.
Watermark feature
In the event that photos or data in the virtual data room are leaked before access can be revoked, the watermark feature is always there. A watermark ensures that wherever the document ends up, it will always bear the organization's name and raise questions.
A watermark is very difficult to erase and any purpose that the hacker intends to use it for will be defeated because the watermark invalidates any claimed authenticity. Also, each user is assigned a unique watermark, which comes in handy if an organization intends to take legal action against the perpetrator.
Remote access and Q/A feature
With a virtual data room, external parties can have access to information on clinical research from anywhere in the world without having to be present at the organization. The question and answer feature helps to bridge the gap of virtual interactions by ensuring external parties can engage in conversations with the organization and get answers to any questions they might have.
Drugs licensing
With virtual data room software, licensing of drugs is made easier because it enables relevant medical authorities across the world to access the details of the drug. After the assessment, due diligence can be carried out to seek approval of the drug.
Over to you
Using virtual data rooms for the medical industry is gaining widespread prominence as it addresses the challenge of security which is paramount with a large volume of data. It also creates a standardized protocol for the replication of clinical research amongst other fringe benefits.
References
Recommended for you