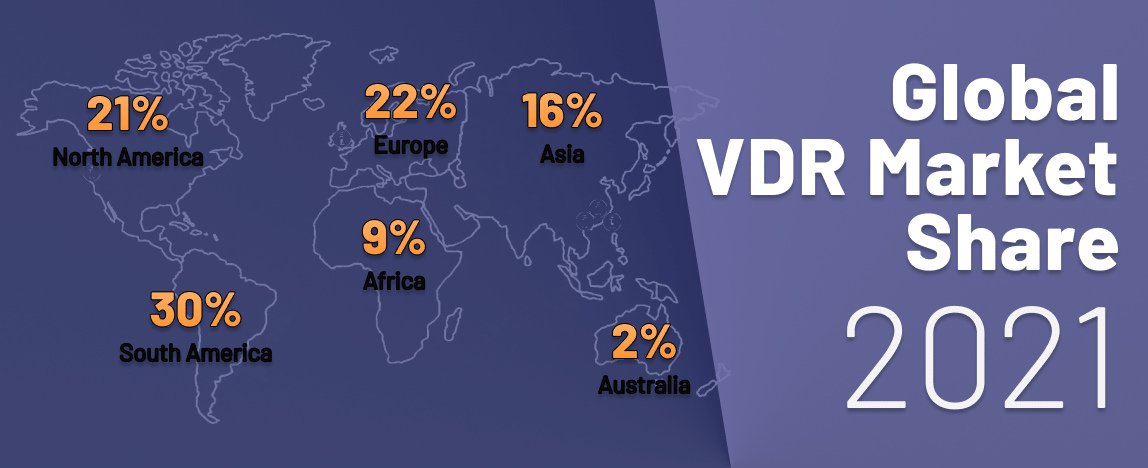 Virtual data room market overview
According to the IMARC Group research, the virtual data room market reached $2.2 billion in 2022. What is more impressive is that by 2028 the total market value will grow more than twice, reaching $4.7 billion at a compound annual growth rate (CAGR) of 13.9% during 2023-2028.
The reason for this growth is the rapid increase in business data volumes over the past few years. According to research, global data volume tripled since 2018, reaching 97 zettabytes (ZB) in 2022, which is equivalent to 97 billion terabytes (TB). 
In response, VDRs have become a popular solution for managing business data, delivering enterprise data management as the primary business function.
Moreover, besides providing companies with a secure way of storing and sharing sensitive client information and collaborating on various business functions, there are three other significant factors driving the demand for virtual data room solutions:
Growing need for intellectual property management. Patent filings totaled 278,100 in 2022, the highest number in a year.
Rising demand for risk management. Gartner projects an 11% increase in cybersecurity and risk management spending in 2023.
Increasing need to secure business deals. 59% of companies don't know whether their defenses can stop cybercriminals, based on the KPMG report.
Redundancy of physical data rooms. Digitized business operations rendered traditional physical data rooms obsolete.
A virtual data room solution not only ensures a high level of security for a company's confidential data but also reduces costs and enhances efficiency. Therefore, virtual data rooms are becoming a powerful tool for various industries, including finance, IT, healthcare, and retail.
Among all the sectors, banking, financial services, and insurance (BFSI) most actively implement VDRs to simplify M&A processes. According to a 2019 Grand View Research report, BFSI accounted for one-fifth of the market.
4 global changes in the VDR and M&A markets since 2020
COVID increased the demand for virtual data rooms
M&A migrated into the virtual workspace
Companies began reinforcing their cybersecurity shields
VDR market showed healthy growth as projected in forecast reports
1. COVID increased the demand for virtual data rooms
These are the main factors driving the demand for virtual data room software:
The shift to remote work. The Gartner survey discovered that as the COVID-19 pandemic emerged, 82% of companies encouraged or required their employees to work remotely. Additionally, 47% of companies allowed employees to work remotely full-time at the pandemic onset.
A surge in cyberattacks. Remote work exposed an organization's valuable data, its employees' personnel files, and other transactional assets to vulnerability. According to the Deloitte report, remote work caused a 200% + surge in cyberattacks in April 2020.
The increased use of digital decision-making technologies. McKinsey's COVID-19 report found that companies were 25 times more likely to use digital decision-making tech, including virtual data rooms.
2. M&A migrated into the virtual workspace
Deloitte emphasized the increased role of IT  in merger and acquisition activities, which shaped three main trends in 2020 and beyond:
Virtual working. More companies started using cloud collaboration tools, telecommunications, virtual data rooms, and online productivity tools in M&A deals. The global team collaboration market reached $15.25 billion in 2020, experiencing a 55% spike since 2019 ($9.87 billion).
Connectivity. Companies focused on faster data transfer speeds, infrastructure improvements, and better control over network applications. The global 5G technology infrastructure market was valued at $5.13 billion in 2020, a fivefold increase since 2019.
Mobility. Small and medium enterprises shifted M&A workflows to mobile devices and laptops and tightened Bring Your Own Device policies (BYOD). In 2020, the enterprise mobility market reached $25.4 billion, showing a 30% boost compared to 2019.
However, companies decelerated M&A efforts due to a sharp economic downturn. According to Ernst & Young, the global M&A activity decreased to $3.6 trillion compared to $4.05 trillion in 2019.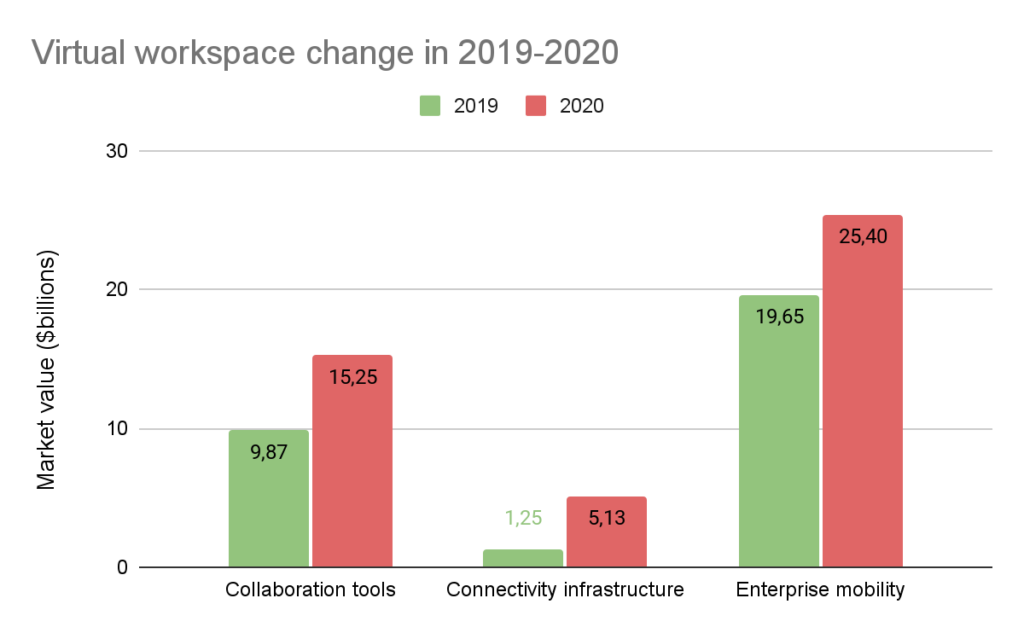 3. Companies began reinforcing their cybersecurity shields
In 2020, companies started investing more efforts into cybersecurity due to remote working and increased digital threats amid the pandemic. The Deloitte cybersecurity landscape survey provided the following cybersecurity data:
Cybersecurity spending per employee increased by 15% in 2020 compared to 2019.
Companies spent 200% more revenues on cybersecurity in 2020 compared to 2019. Retail & corporate banking spent the most, doubling cybersecurity spending in 2020.
In 2020, 27% more companies integrated cybersecurity into their IT business strategies compared to 2019.
4. VDR market showed healthy growth
Here are some key developments that have contributed to the growth of the virtual data room market in recent years:
Despite declining global M&A activities, the global VDR market kept healthy gains and realized its annual growth expectations.
It benefited from skyrocketing digitalization rates, a spike in remote work, and raising cybersecurity awareness in the business landscape. 
In 2020, the VDR market was valued at $1.7 billion, showing a 15% increase since 2019.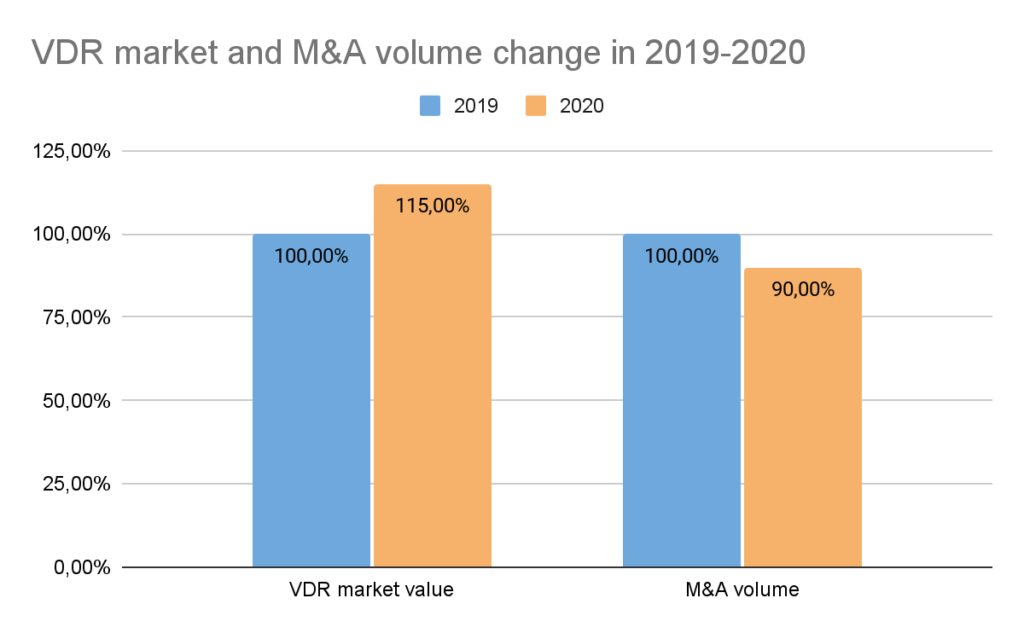 5 key market trends 2021-2023
The growth of M&A activities, joint ventures, and partnerships in 2021-2023
Combination of blockchain and VDR
Increased demand for a secure way of storing critical data in 2021-2023
Reduction in M&A activity in 2022-2023
Increased demand for data automation and AI tools in 2022-2023
1. The growth of M&A activities, joint ventures, and partnerships in 2021-2023
Imagining financial transactions and secured data sharing without online data rooms in 2023 is nearly impossible, as the information they are transmitting is highly vulnerable. Therefore, the constantly increasing growth is fueling the VDR market.
Back in 2020, experts predicted that company collaborations would be among the main trends in 2021 — and it happened. Sian Saywar, government director in HBAA, forecasted that M&A and joint ventures would increase.
2021 has already become a record-breaking year for M&A as it set a new record of $5.8 trillion, which is 161% more than in the same period last year. At the same time, it's also a year for SPAC investing — by the end of 2021, their funds totaled $145 billion — a new record. 
2. Combination of blockchain and VDR
The main advantage of modern virtual data rooms is ensuring all the digital assets they are transferring remain safe. As security is a top priority for any company, VDRs have been actively looking for new ways of maintaining bank-grade level security.
Blockchain technology in virtual data rooms solved some of these challenges. Besides guaranteeing the security of sensitive data within VDRs, it also provides full transparency.
Drooms provider has already implemented blockchain technology in its virtual data rooms. Drooms CEO Alexandre Grellier claims that the business market is not only greatly opened towards such a new technology combination, but there's a strong demand for it.
3. Increased demand for a secure way of storing critical data in 2021-2023
The COVID-19 pandemic set a stable trend for remote work two years after its onset. According to New Your Times, the percentage of remote job postings is still 400% higher than before the pandemic.
Cyberattacks have also increased as employees share data from vulnerable home offices. The cost of cybercrime will hit $8 trillion in 2023 and $10 trillion in 2025.
Einser Amper, one of the biggest consulting firms, believes falling for cyber scams and relying on antivirus software alone are the top ten data security mistakes in 2023. 
Worsening cyber crimes and the prevalence of remote work fuel the data room market in 2023 as it provides businesses with bank-grade levels of security.
4. Reduction in M&A activity in 2022-2023
According to Bain & Company, the deal value dropped by 36% in 2022 compared to 2021 due to geopolitical tension and economic recession in the first half of 2022.
Many forecasts predicted a slow recovery in M&A activity in 2023, anticipating that it would return to late 2020 levels. However, the first quartal of 2023 delivered a deal volume of $559 billion, only 23% of the 2021 volume. Additionally, Bloomberg projections confirm that the downward trend will dominate the rest of 2023.
According to Reuters, dealmaking still suffers from the war in Europe, rising interest rates, and overall economic volatility. These conditions force most companies to postpone transactions 
That said, Daniel Wolf, partner at Kirkland & Ellis, believes M&A may regain momentum in the upcoming 18 months. He predicts that the financial market will recover while the interest rates will decline. As a result, the economic environment will become more favorable for corporate transactions.
At the same time, the VDR market showed incredible resilient market dynamics in 2019-2022, slightly decreasing in 2021 but recovering in 2022.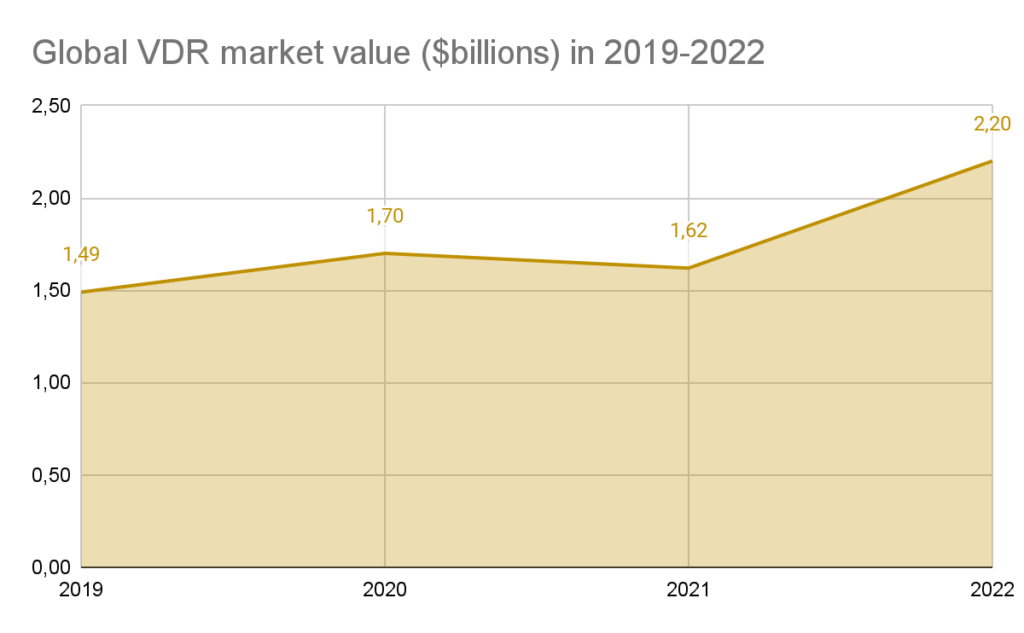 5. Increased demand for data automation and AI tools in 2022-2023
M&A is time-consuming, especially its due diligence process. Adam Friend, Senior Vice President of Business Development at Veritext Solutions, says due diligence can take 6-12 weeks, depending on the deal's complexity.
Companies naturally address automation and AI tools to shorten due diligence time and reduce costs. Based on the Datasite report on 2,000+ dealmakers, over 30% of respondents believe AI and machine learning will impact transformative M&A in the next five years.
Virtual data room providers already respond to these challenges with data automation tools, including AI index structuring, redaction, contract management, etc. Market leaders, including iDeals, Ansarada, Datasite, and Intralinks, will likely improve automation tools in 2023 and beyond.
Global virtual data room market forecast 2023-2028
Now, let's see what awaits the virtual data room market in the years to follow:
The rapid growth of cloud-based VDRs 
The predominant position of the BFSI industry
AI-powered virtual data room
1. The rapid growth of cloud-based VDRs
According to Zippia, 67% of business IT infrastructure was cloud-based in 2022.  Additionally, the amount of corporate data stored in the cloud increased by 10% from 2021 to 2022. It's a quantum leap compared to a 5% increase from 2018 to 2021.
Cloud transformation will likely continue beyond 2023. The virtual data room industry offers cloud-based solutions with the following advantages:
Immediate access through the internet
Lower infrastructure costs compared to on-premise sites
24/7 support and maintenance
Easy implementation
Gartner predicts that 75% of businesses will adopt virtual data centers, virtual data rooms, and cloud-based business models by 2026 based on the above benefits.
2. The predominant position of the BFSI industry
Allied Market Research published a qualitative and quantitative analysis of the virtual data room market, outlining its verticals. According to the report, the market is divided between:
BFSI
Retail and e-commerce.
Energy and tilities
Healthcare
IT & Telecom
Construction & Real Estate
Other
According to the report, the banking, financial services, and insurance (BFSI) sector is currently outpacing other industries. Moreover, it is projected to remain predominant until 2026.
These findings align with other reports. For instance, the Verified Market Research report attributed 26.15% of the VDR market share to BFSI in 2021. It is expected to grow at a CAGR of 15.81% during the 2022-2030 forecast period.
3. AI-powered virtual data room
In 2019, the solution segment accounted for over 70% of the global revenue share. This was caused by a rapidly growing demand for VDR software across numerous spheres, including M&A activities, fundraising, financial audits, and many others.
With such a significant focus on the VDR solution segment, leading market players are concentrating their forces on developing AI-powered VDRs.
According to a recent report by Grand View Research, it is estimated that the AI-powered segment of VDRs will grow at a CAGR of nearly 20% between 2020 and 2027.
Virtual data room market forecast by region
Let's take a closer look at the virtual data room market forecast by region.
| | |
| --- | --- |
| VDR market forecast by region | Description |
| 1. Asia-Pacific growth in the VDR market in 2021 | The number of start-ups and M&A activities is steadily growing across leading countries of the Asia-Pacific region like China and India. CB Insights stated in its 2021 Tech Trends report that investors funded above $90 billion into almost 5,800 deals to tech start-ups from the Asia-Pacific region.As of April 2021, about 200 of the world's unicorns are based in the Asia-Pacific region. Moreover, the highest-valued global unicorn is ANT Group, a fintech company based in China. It was valued at around $200 billion. Therefore, according to a recent report by Grand View Research, it is projected that the need for virtual data rooms will skyrocket in Asia-Pacific countries between 2020 and 2027.  |
| 2. North America holds the largest share of the VDR market | In 2021, North America held 37.68% of the market share. There are two key factors behind this number. Firstly, most key VDR market players, who make considerable investments, are based in North America, including iDeals, Citrix Systems, and Intralinks Holdings, Inc.Secondly, numerous governments and enterprises in the United States and Canada have adopted virtual data room services for secure data access. They are willing to implement digital innovations in current solutions and, therefore, increase the regional demand for VDRs. |
| 3. The North American VDR market will reach $1.5 billion by 2028 | Other reports predict this market region to grow significantly beyond 2025. According to the Business Market Insights report, the North American VDR market will reach $1.5 billion by 2028 at a CAGR of 10.6%.Based on this report, renewable energy and other technological advancements will become the main drivers for the VDR market in this region during the forecast period. More renewable energy companies and Silicon Valley start-ups will require data rooms for secure communications and data storage.  |
| 4. Europe will become the second-largest VDR market by 2028 | Europe suffers from the technological crisis and struggles to find its place in the US-China tech race. However, European companies will attempt to preserve their competitive edge despite unfavorable economic conditions. Also, The EU currently seeks alternatives to its energy crisis aggravated by the Russian-Ukrainian war. According to the World Economic Forum, Europe plans to increase the renewables' share in energy consumption by 45% by 2030. Technology opportunities and corporate transactions will fuel the VDR market growth in the region. According to Business Marketing Insights, the European VDR market will reach $934.7 million by 2028 at a CAGR of 11.6%. |
| 5. China will contribute to the third-largest VDR market by 2028 | The regional analysis found that China generated over 48% of the world's most innovative research papers. Additionally, this country leads "37 out of 44" critical technologies. As of February 2023, China already outperformed Western democracies regarding technological development. This trend will continue in late 2023 and beyond, increasing the demand for secure document sharing. According to the Research And Markets report, the Chinese VDR market will grow at a CAGR of 17.2% between 2022 and 2030. It will reach $766.4 million by 2030, making Asia-Pacific the second-largest VDR market. Considering the region's growth, the local VDR market will reach $934.67 million by 2028 at a CAGR of 15.1%. |
| 6. The Middle East and Africa will become the fourth region by VDR market value by 2028 | While the global M&A deals declined in 2022 and Q1 of 2023, the Middle East showed remarkable progression in the industry, according to Ernst & Young. A total of 754 M&A deals were recorded in the Middle East and Africa in 2022, most of which were registered in the UAE, Saudi Arabia, and Egypt. According to the Maximize Market Research report, the total value of the local VDR market will reach $214.77 million by 2027 and $234.31 by 2028 at a CAGR of 9.10%. |
| 7. Latin America will become the fifth region by VDR market value by 2028 | M&A in Latin America followed worldwide trends, with 2022 being the lowest activity year since 2016, according to the FTI Consulting report. It also suffered from economic uncertainties, geopolitical tension, and rising interest rates. However, social unrest in certain countries, including Argentina's worsening crisis, also contributed to an unfavorable dealmaking environment.As a result, reports predict some of the lowest VDR market growth rates among all regions — the local VDR market will grow from $45.68 million in 2021 to $76.9 million in 2028 at a CAGR of 6.7%. |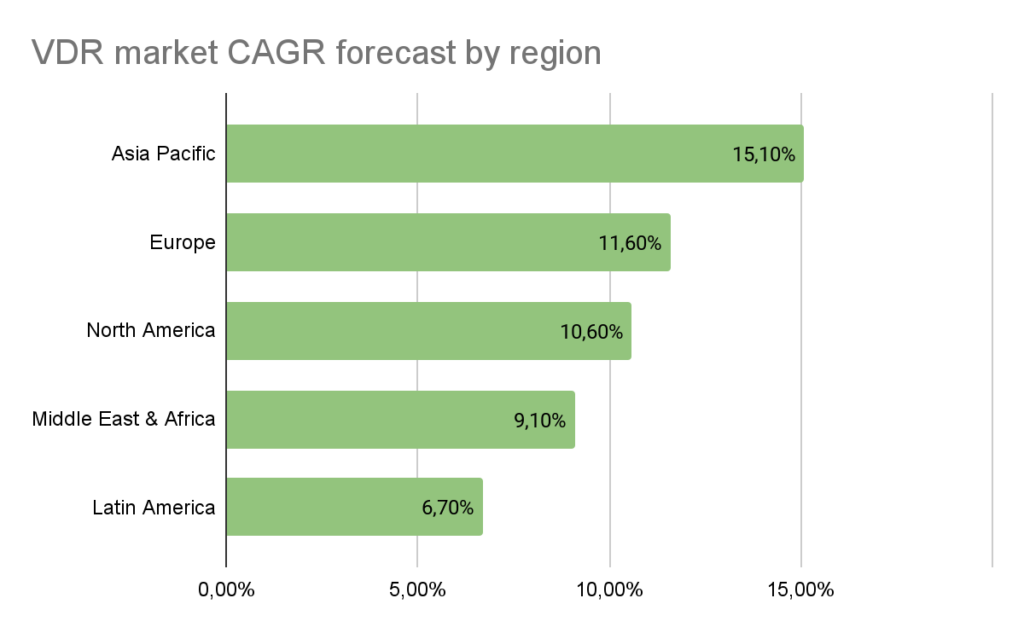 Competitive landscape: Prominent major VDR players
Let's define key leaders of the virtual data room market and see what drives their popularity and growth.
iDeals Solutions Group
iDeals Solutions Group is a data room software company that provides online file management services and streamlines M&A business processes. Its primary product is iDeals VDRs, service-supported virtual data rooms used by businesses in more than 30 countries.
iDeals develops secure data storage tools and search functionality for sensitive documents. The company assists in secure document management for sectors of investment, legal, and life sciences.
In 2019, iDeals acquired Boardmaps, a board management software vendor. iDeals also made considerable improvements during 2021-2023, gaining over a million users in 175,000 companies. 
iDeals VDR became the Frontrunner of 2022 at SoftwareAdvice and one of the key market players. The most prominent iDeals customers include Deloitte, Accenture, KPMG, and Citi.
Citrix Systems, Inc.
Citrix Systems, Inc. develops information technology solutions with all the design, development, and marketing stages. It provides enterprises with delivery networking products and workspace services solutions.
In 2018, Citrix Systems announced its Citrix SD-WAN service and Citrix ADC, application delivery controller, to help network service provider (NSP) partners and managed service providers (MSPs).
In 2021, Citrix Systems acquired Wrike, a project management tool, for $2.25 billion. Wrike contributed to the Citrix Systems technology stack, improving its VDR services and attracting new customers. Citrix Sharefile, a branded virtual data room, serves over 65,000 corporate customers as of 2023. 
Colliers International, Messer Construction, and SCL Health are prominent Citrix Sharefile customers.
Intralinks Holdings, Inc.
Intralinks is a provider of collaboration software and security solutions for online document sharing. The company provides cloud-based financial technology, global banking, and deal-making.
Besides keeping a solid position in the banking industry, IntraLinks also caters to other fields, like real estate or deal marketing. Its partners include Black & Callow, Broadridge, and Kira. Among its customers are Starbucks, Hailiang Education, and Globalvia.
Intralinks's latest deal was an acquisition of Verilume, a cloud infrastructure company, in 2016. This acquisition helped Intralinks strengthen security compliance and reach new audiences. 
Notable Intralinks customers include Goldman Sachs, Whole Foods Market, and L'Oréal Group. As of 2023, Intralinks serves at least 1,200 corporate clients, mostly large enterprises.
Merrill Corp./Datasite
Datasite, also known as Merrill Corp., is a developer of SaaS platforms for the M&A industry. They work throughout the whole M&A lifecycle, covering all the necessary stages:
Marketing and engagement
Detailed analysis and due diligence
The company was founded in 1968 as a Merrill Corporation. However, in 2020 it announced the rebranding to Datasite, renewing not only the company's name, logo, and website but also its due diligence application.
In 2021, Datasite acquired Firmex, a Canadian virtual data room provider. This acquisition supported Datasite's growth strategy and helped it enter the Canadian VDR market. As of 2023, Datasite enumerates 3 million users from 13,000 companies in 180+ countries. Notable Datasite customers include E*Trade, Duff & Phelps, and Morgan Stanley.
Ansarada
Australian-based Ansarada develops a virtual data room platform designed to offer information on M&A activities. Their main advantage involves implementing artificial intelligence tools and machine learning techniques.
Such solutions simplify the deal-related processes and streamline all the needed preparations. In 2020, Ansadara merged with Thedocyard, another Australia-based SaaS VDR provider, and raised $12 million in funds.
In 2020, Ansarada also launched a Smart Upload tool that automatically allocated files to the data room.
Ansarada remains a solid player in the Australian VDR market, serving over 10,000 companies as of 2023. Its prominent clients include VISA, CVC Capital Partners, and Glencore.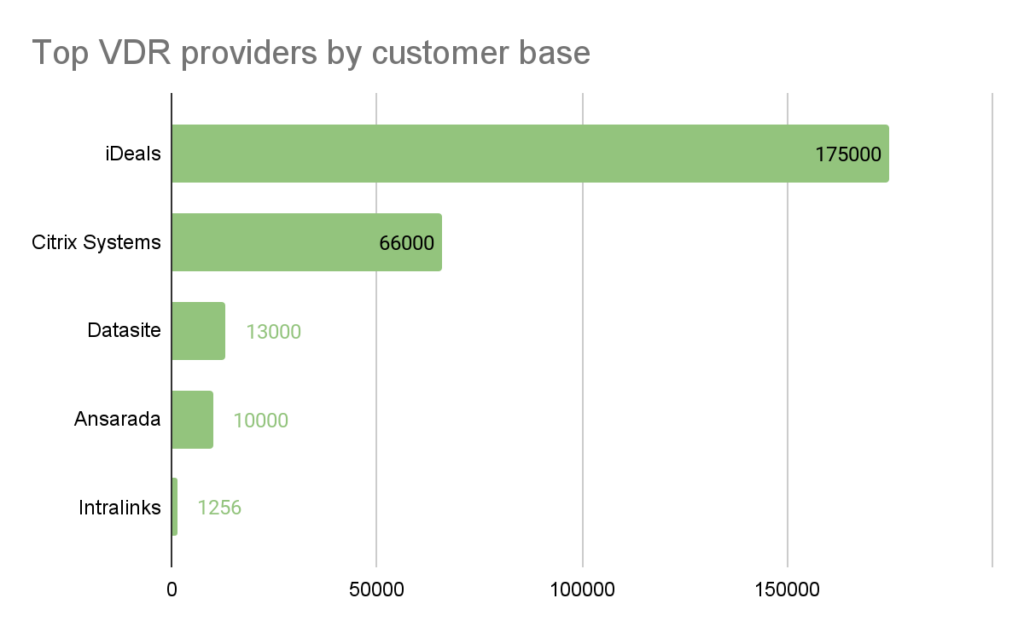 Key takeaways
Here are the most important takeaways from the article:
The global market of data rooms goes hand in hand with global M&A activity and economic trends. However, the VDR market remains resilient during economic downturns, particularly in 2020 and 2022-2023, despite M&A hitting all-time lows. 
The global VDR market is projected to grow at a CAGR of 13.9%, from $2.2 billion in 2022 to $4.7 billion in 2028. During this forecast period, the North American VDR market will remain the largest, while the Asian market will become the third-largest, keeping up with Europe.
Among all market regions, Asia will grow at the fastest rate (15.1% CAGR), while Latin America will grow at the slowest rate (6.7% CAGR).
iDeals, Citrix Systems, Intralinks, Datasite, and Ansarada are among the key players in the competitive landscape,  according to our primary research. iDeals represents the biggest customer base in the VDR industry as of 2023, serving over 175,000 corporate clients.
References
Recommended for you