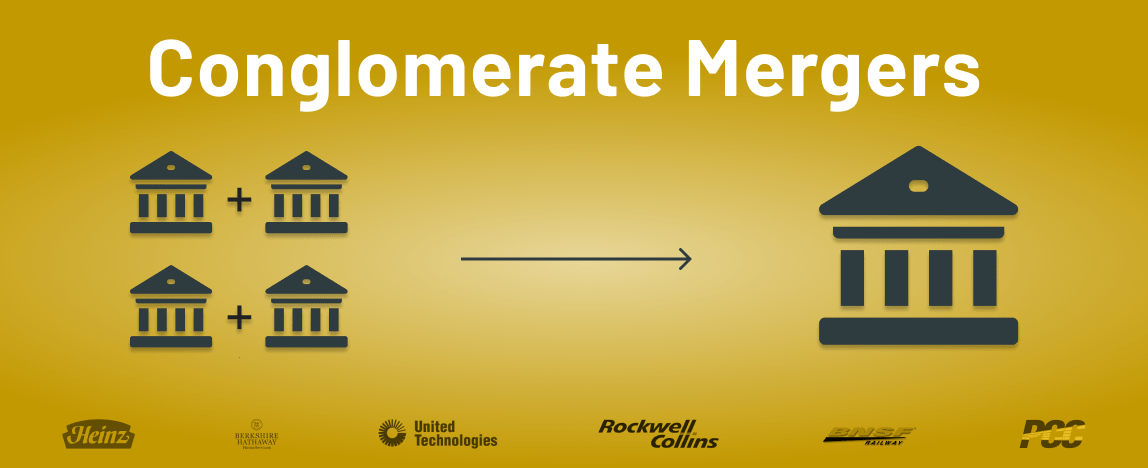 In the business world, conglomerate mergers can be a lucrative prospect for many companies. They offer the chance to improve efficiency, diversify business practices, and reach new customers and demographics.
Within this article, we'll be exploring the following topics.
What is a conglomerate merger?
What are the advantages and disadvantages of such a merger?
What are some of the most ambitious conglomerate mergers examples?
How can virtual data rooms help during the M&A process?
Read on to learn more.
What is a conglomerate merger?
A conglomerate merger is a deal that combines two firms, often from two different business sectors. Generally, there are two forms of conglomerate mergers: pure and mixed. Pure mergers see the separate firms continue their work in their own respective markets. Conversely, mixed mergers allow firms to pursue market and product extensions.
Commonly, two firms enter into such mergers to diversify their business, take advantage of potential synergies, and increase their market share.
Top 5 VDRs for conglomerate mergers
TOP
Providers
Useful features
1
iDeals

2
Merrill
3
Intralinks
4
Ansarada

5
Citrix
Advantages and disadvantages of a conglomerate merger
There are numerous advantages and disadvantages of conglomerate mergers.
Advantages
Mergers result in diversification for both conglomerate businesses. Diversification reduces the risk of financial loss. For example, if one sector is underperforming, other facets of their business may be profiting, so it will offset any losses. As such, many merging companies see the deal as a potential investment opportunity.
Mergers also allow a conglomerate company to reach a new demographic that was previously unavailable, increasing their customer base. In addition, this financial opportunity means a conglomerate business to cross-sell and market new products, which may eventually lead to increased revenues.
Additionally, conglomerate mergers often result in an increased level of efficiency. When companies merge, they each bring their best practices to the table. As a result, they often operate at a higher level than before the merger.
Disadvantages
Diversification is not always a fruitful outcome for conglomerate mergers; there are numerous risks that may not pay off for either company. For example, diversification can result in a lack of resources for certain core operations, resulting in less-than-ideal performances.
If the buy-side firm does not have experience in the sell-side's sector, they are likely to develop poor pricing structures, ineffective policies, as well an underperforming pool of workers.
You could make a list of conglomerates that merged different industries that could not develop an appropriate corporate culture. Firms have found it exceedingly difficult to align their behaviors and values with those of the new firm. When developing a new culture, some companies forget that they should not be eradicating existing cultures, especially if they have worked for the business thus far. Instead, successful mergers should involve a deliberate effort to take note of successful processes, principles, and values that can elevate the company to a higher level.
Conglomerate mergers examples
Below, you will find a breakdown of five of the biggest conglomerate merger deals ever completed. Many of these examples of conglomerates are businesses you encounter every day, such as Mars, Wrigley's, and Heinz.
Berkshire Hathaway and Precision Castparts
Cost of the deal: $37B
Year: 2015
You should not be surprised to see Warren Buffet's investment group, Berkshire Hathaway, at the top of this list. The famed American business magnate's biggest deal also happens to be the most expensive merger of all time, when his company invested $37B to acquire Precision Castparts, a manufacturer in the aerospace industry.
Interestingly, the deal marked a departure from Buffet's usual value investing. He acquired Precision Castparts for more than 20 times earnings. Additionally, the price also included a 20% premium on the price of shares.
United Technologies and Rockwell Collins
Cost of the deal: $30B
Year: 2017
The conglomerate merger example that saw United Technologies acquire Rockwell Collins is interesting because it led to numerous spin-off endeavors, including Otis Elevators, a popular name in consumer tech that eventually departed from the conglomerate's portfolio.
You may notice that the top two mergers on our list are in the aerospace industry. The merger allowed United Technologies to become a mega supplier for the aircraft company Boeing. This deal caused a stir in the sector, particularly among shareholders. Such dissatisfaction caused United Technologies stock to fall to its lowest price in over two (2) years.
Berkshire Hathaway and Burlington Northern Santa Fe
Cost of the deal: $27B
Year: 2009
Following the acquisition of Burlington Northern Santa Fe, Berkshire Hathaway's Warren Buffet famously said: "Our country's future prosperity depends on it having an efficient and well-maintained rail system."
At the time, this was the largest example of conglomerate merger in history, only eclipsed by the acquisition of Precision Castparts six years later. If you look at the growth of Burlington Northern Santa Fe (whose market value has since doubled), it's clear that Warren Buffet understood the potential in such an extravagant deal.
Berkshire Hathaway and Heinz
Cost of the deal: $23.3B
Year: 2013
Yet another merger involving Berkshire Hathaway, this deal was directly responsible for the Heinz merger with Kraft, forming the company now known as Kraft Heinz, a major player in the global food industry.
It is fascinating to note that Berkshire Hathaway admitted that the purchase of Heinz was much better than the deal with Kraft. This deal also shows how a conglomerate can expand into other industries with astute mergers. It's worth noting that Berkshire Hathaway is also Coca-Cola's largest shareholder.
Mars Inc. and Wrigley's
Cost of the deal: $23B
Year: 2008
Although Berkshire Hathaway was not directly involved with Mars Inc. and Wrigley's merger of 2002, they did provide Mars with the financing necessary for acquisition. This was during a period where many companies were finding it difficult to obtain liquidity. Of course, on paper, the deal makes total sense. Mars is the world's largest confectioner.
Why conglomerates use virtual data rooms for mergers?
For those unfamiliar, a virtual data room is an online space in which information and documents are stored and distributed. In most instances, a virtual data room facilitates due diligence during mergers and other such business transactions.
There are many reasons why a conglomerate may use a virtual data room for their mergers. For one, VDRs offer complete security. These types of transactions deal with a great deal of sensitive information that should only be viewed by authorized personnel. In addition, you can set permissions ahead of time to ensure only the right people can access certain files.
Virtual data room software is also much more organized than software such as Dropbox. For example, you can organize an online data room for conglomerate merger deals in a way that makes the due diligence process much more efficient. You will also have a comprehensive record of all required documents available for viewing later.
Additionally, unlike years prior, a virtual data room means you do not have to be tethered to a physical location to share documents. A virtual data room can be accessed from anywhere in the world with only an internet connection.
In short, virtual data rooms offer a unique and user-friendly solution for collaboration and file sharing, which may prove essential for many modern conglomerate mergers.
Final thoughts
As you can see, conglomerate integration can be widely successful if the proper precautions and due diligence are undertaken. Of course, conglomerate organizations have much to lose in any M&A deal. However, as the examples provided show, there is potential for enormous growth and diversification for any multinational conglomerate company willing to take the risk.
References
Recommended for you