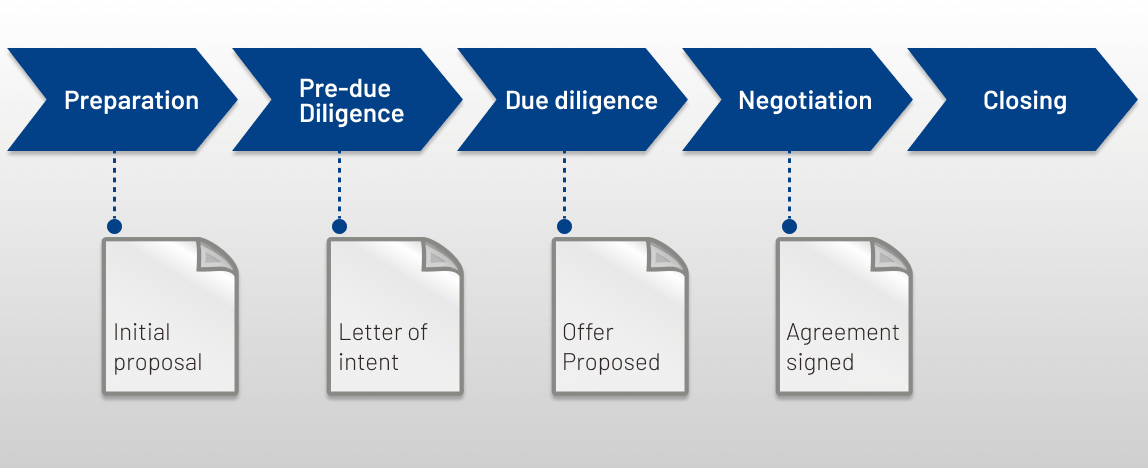 Gone are the days when Merger & Acquisition deals meant having to move hard-copy documents in and out of places or having to travel to a physical location to complete due diligence.
The buyer and seller teams can effectively carry out due diligence online, without the need to interact in person. This is because virtual data rooms (VDRs) come into play.
Best VDRs for a smooth M&A process
TOP
Providers
Useful features
1
iDeals

2
Merrill
3
Intralinks
4
Ansarada

5
Citrix
The M&A overview process on the buyer and seller's side
Due diligence for a buyer in an M&A varies from that of a seller's, as they play different roles in the entire process. Here's a brief overview.
Preparation
Before due diligence starts, both parties have a role to play once it's clear that they'll be going forward with an M&A. This is the stage of preparing the virtual data room for M&A.
On the buyer's part, the entire process starts from the point an M&A strategy is drafted. It involves how the buyer intends to achieve the M&A, the target clients to consider, the possible duration of due diligence, and determining the highest possible bid the company can afford to pay. Also, they determine the external advisers to bring on board to decide if a potential seller meets their criteria for a merger or acquisition.

The seller has to do a strategic review to determine the company's current financial health, then go ahead with preparing a convincing business plan for its potential buyers. The seller determines what aspect of the business is up for the merger and which possible assets to list for acquisition. After these, they can then focus on choosing potential prospects, and sending out a memo or teaser to target companies. Once settled, they begin to compile necessary files for due diligence. Here, the management begins to draft all important presentations as well.
Pre-due diligence
The buyer makes initial contact with a prospective target after receiving a teaser and goes on to sign an agreement to keep all corporate disclosures confidential. Hereafter, a pre-due diligence data compilation is done, from which a detailed due diligence is drafted. Once they decide that the target is a promising one, they set up a due diligence team. A buyer might also decide to make an offer ahead of due diligence to show deeper interest.

On the seller's part, pre-due diligence means setting up the data room after making contact with potential buyers and distributing the required memo regarding the duration of the data room access, among other things. They might decide to fetch offers from potential buyers at this phase. Afterward, agreements are distributed, and management presentations are duly prepared.
Due diligence
During due diligence, the buyer inspects the data room and begins a review of important documents, the team of experts analyzes the data to determine areas of possible risks and return, and potential offers to make on the merger or acquisition. They decide if there are terms to follow on their or the seller's part before negotiation.

The sellers go through the letters of intent to determine which prospects are most convincing and decide whom to invite for due diligence. In this phase, the seller provides all the assistance required to the buyer's due diligence team while the data room due diligence is ongoing.
Negotiation
After analyzing the data retrieved during due diligence, the buyer begins to negotiate with the seller on its closing offer after determining what to offer the company for the merger or acquisition. Afterward, a final agreement is reached with the sellers.

The sellers accept the best overall offer from its list of final offers, after which negotiations are made, and parties come to a final agreement.
Closing
In finalizing due diligence, the buyer's team dissolves its due diligence team and begins work on the agreement and terms of the M&A. Hereafter, they send out the compensation to the seller as agreed.

Now that a deal is sealed, the seller shuts down the data room, begins work on the agreement, and effects an exchange of ownership.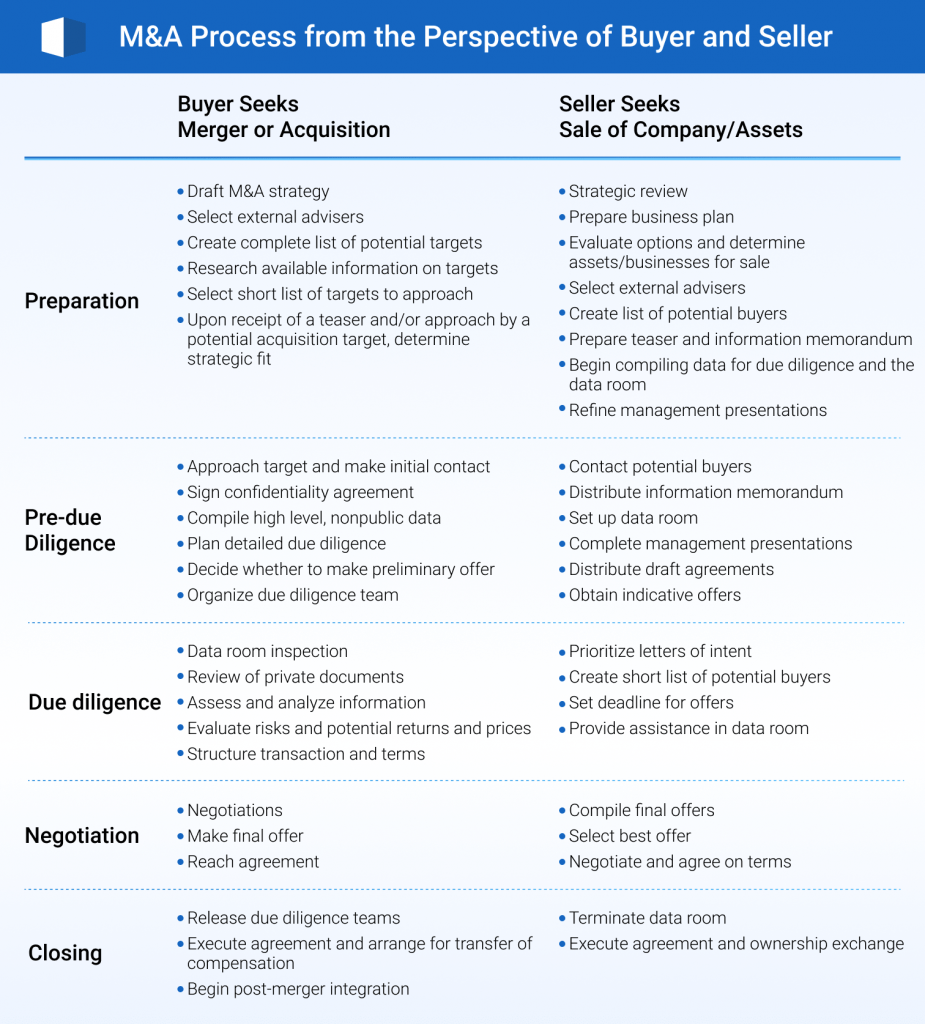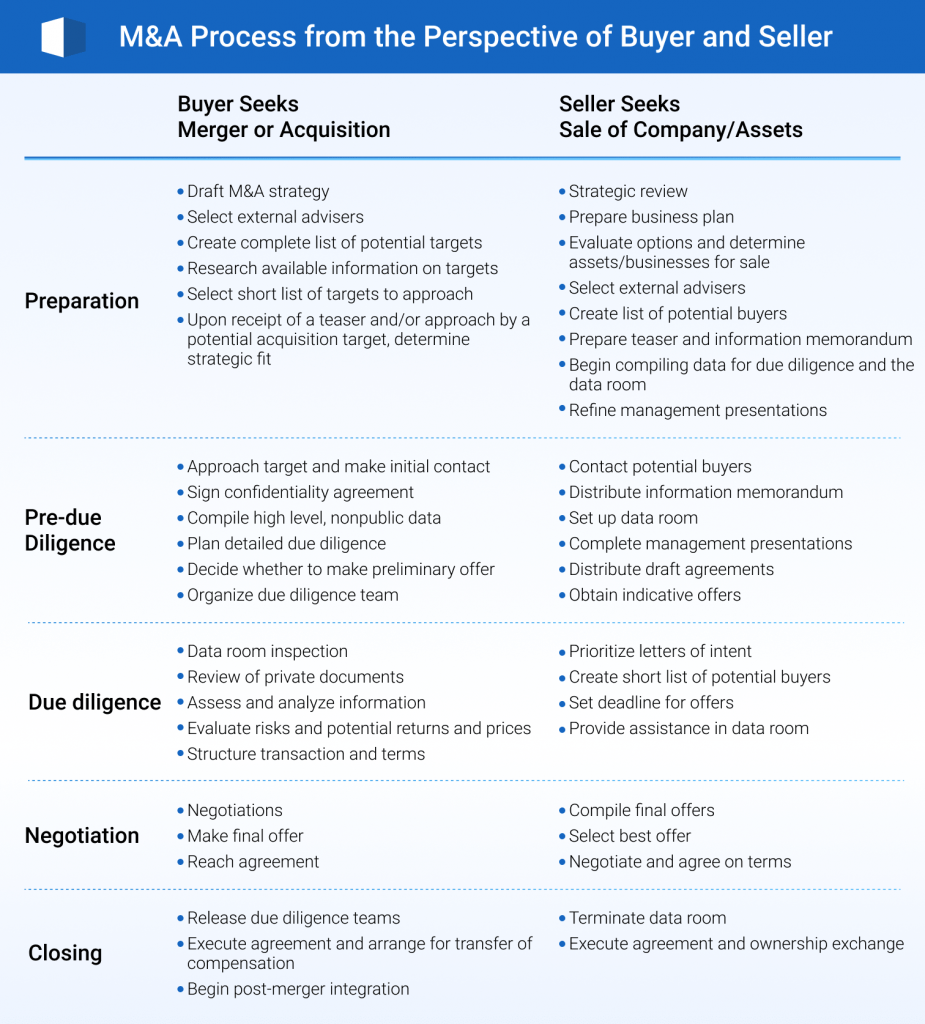 Benefits of a virtual data room to the M&A buyer side
Virtual data rooms make the overall due diligence process smoother for everyone, as it's easier to monitor, access, and evaluate every activity carried out in the data room. Let's take a look at what particular benefits a VDR offers to the buyer.
Saves costs
It's not diligent or prudent to run up costs unnecessarily when looking to save money or make a viable investment. In the past, this was what physical data rooms were about — spending more to make more.
From transportation costs to accommodation and other miscellaneous expenses, using a physical data room for M&A due diligence meant going all out. It's even more challenging to control costs when each team member is incurring similar expenses. However, virtual data room software is more cost-effective, helping to eliminate unnecessary parallel expenses, tapping into the power of the internet. With electronic data rooms, the M&A buy side can spend less to make more.
Saves time
Think of the time it takes to travel, schedule physical appointments, and book hotel rooms; all of that time could be spent constructively when using a VDR for due diligence. The M&A process becomes easier, as searching for documents is automated, and a VDR eliminates the need to browse through unnecessary hard-copy documents. With online data rooms, due diligence teams can get straight to business and produce more effective results.

Valuation, analysis, and overall due diligence can be processed faster, with a focus on more important details. Also, the buyer's team doesn't have to look through the document in haste, as in a physical data room (PDR), because other buyers are waiting to use the data room. Rather it provides a flexible alternative for the team to work more effectively.
Guarantees process flexibility
The ability to work from the comfort of your home or office — at your convenience — is what often seals the deal for using virtual data rooms. Unlike the physical data rooms where you have to work within constraints, time limits, and often unfamiliar locations, VDRs eliminate all of that.
Due diligence teams can work to attain more productivity, based on what works for them and not on the seller's narrow time window. Now, both parties can trust the thoroughness of the due diligence process, knowing that experts weren't pressured through the process.
Provides equal access duration
In a highly competitive M&A deal, every buyer is interested in "winning the prize", hence the reason for the due diligence process. Online data rooms allow all authorized users to access the data room simultaneously and for the same period, giving every participant an equal opportunity.
In a physical data room, scheduling conflicts may arise. This situation could provide an advantage to early users of the data room who would have more time to process the data. VDRs eliminate the pressure of keeping to a strict use schedule simply because other teams are waiting to use it—all authorized parties have equal access.
Benefits of a virtual data room to the M&A seller side
For both buyers and sellers, VDRs make it easier to share information and manage processes faster than if done manually. Let's now take a look at what particular perks VDRs offer to a seller.
Offer less complex due diligence preparation process
For any seller in an M&A, designating a data room for potential buyers can be a challenging process — from start to finish. Sellers have to find an appropriate space to set up a data room, make copies, and depending on the number of data rooms in question, overseers have to ensure thoroughness and provide physical security. These factors can make managing a PDR energy-sapping and complicated.
However, virtual data rooms already have most of these functions automated, hence making the data room setup process less complicated. It also eliminates the possibility of oversights, making the process more effective and energy-efficient.
Provides quick setup time
When a seller is going through multiple due diligence processes simultaneously, VDRs make it easier to set up data rooms. The same VDR database can be used for different due diligence processes, with additional documents uploaded when necessary. Conversely, with PDRs, users have to set up multiple data rooms for different due diligence processes to occur simultaneously.
Saves time
Some due diligence activities need to be carried out quickly to close the deal by a deadline. If the seller doesn't have the luxury of time, setting up and using a PDR can pose a lot of challenges. VDRs, once set up, automate the entire process, eliminating the need for manual assistance, such as in-person meetings, supervision of the data room, etc. With these achieved, potential buyers can go through due diligence in a timely manner, and the seller can close the deal sooner.
Saves cost
With VDRs, the seller saves money, especially when there are several potential buyers. If the seller is using more than one physical data room for larger prospects, they are sure to spend more. With VDRs, there is no need to keep multiple software for different users. A buyer's cost-saving ultimately becomes the seller's advantage, as it opens the door for a wider range of bids, with lower cost implications and a better chance of closing successfully.
Guarantees security of confidential documents
Technology has made it possible to ensure the VDR security of confidential documents through encryption, user-control features, and database security, which might not be possible with a physical data room. Although physical data rooms are kept as secure as possible, it still doesn't eliminate the possibility of stolen documents, unauthorized access to the room, etc. VDRs are built to handle all of these concerns, hence, they're more secure and efficient.
Lays the foundation for a higher closing price
In a competitive M&A deal involving many potential buyers, the M&A sell side can benefit by receiving higher bids since most of the prospects are also interested in closing in. With the possibility of a wider reach, electronic data room providers afford sellers the privilege of asking for and waiting for a fair market price.
References
Recommended for you