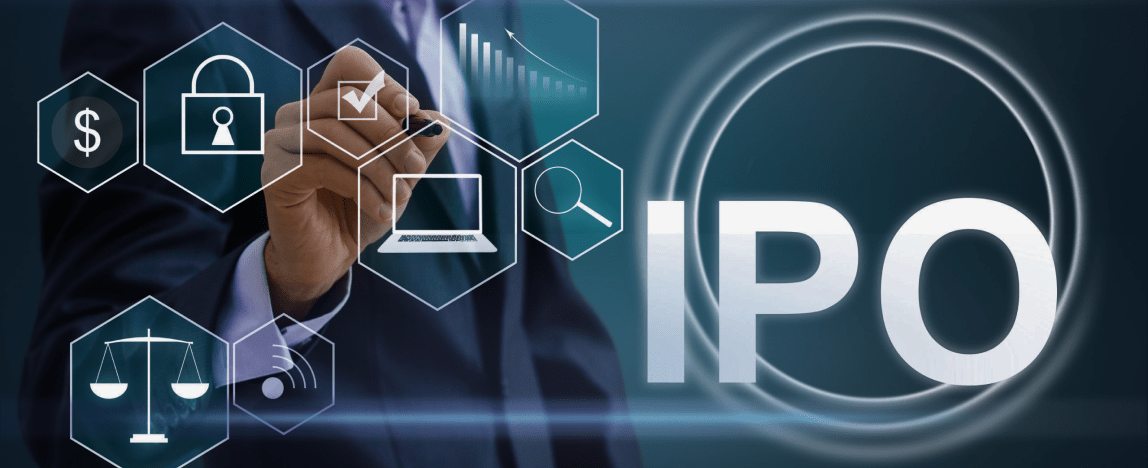 Initial Public Offering (IPO), most commonly referred to as going public, is the process of a privately-owned company offering its shares to the public on a stock exchange. It is considered an important milestone in a company's growth as it signals proven profitability and potential for expansion. The main reason a company goes public is to raise capital for growth, but the right time to do so is different for every company.
On average, it takes about six to nine months to complete an initial public offering. Conducting an IPO is a complex, time-consuming, and stressful process. The company has to do internal audits, prepare financial statements for an investment bank to determine its value, and put together portfolios for potential stock buyers. All of this involves compiling a large volume of documents and disclosing sensitive information. It is crucial to demonstrate transparency and control to all shareholders. Every detail is worth considering to maximize the success of an IPO.
Why use a virtual data room for an IPO?
Inevitably, the IPO process leads to the company's financials being heavily scrutinized by multiple shareholders. How the information is presented and how transparent the company is can determine how successful the IPO.
A Virtual Data Room (VDR) can help the IPO process run more smoothly while keeping all documents in a secure environment. A VDR is a multi-functional online storage space designed to assist with various business operations for secure document management, sharing, and storage. During the IPO process, a VDR can improve efficiency by enabling legal, financial, and management teams to work alongside each other. A virtual data room for IPO also ensures fast and secure access to all data to authorized users.
A VDR provides the following benefits for the IPO process:
Security compliance and encryption
VDR security is the key advantage of data room providers. Secure virtual data room providers have been audited by ISO/IEC 27001:2013, or SOC 1 or SOC2 (Type I, Type II) Certified Data Centers and use reliable encryption methods. Certification ensures that the VDR servers meet the standards and guarantees high-quality service, risk management, and security. For example, the most secure VDRs allow "view only" status meaning that people with access cannot copy, share, print your documents without permission.
Controlled and centralized document sharing
Confidential materials are all stored in one virtual place, allowing controlled, permission-based access set by the VDR administrator. A VDR allows the administrator to set different levels of access for various groups of users, set access expiration dates, and see user activity log.
Access to insightful analytics
Access to full audit trails (user activity logs, statistics on which documents, which pages have been viewed the most, for how long, to whom were they forwarded, etc.) can help estimate the interest of potential investors and give a better understanding of what investors are particularly interested in. Having access to such data helps the company make better, data-driven decisions, evaluate and plan its strategy more carefully.
24/7/365 access from any device
Being able to gain access anytime from any location worldwide increases the company's stakeholder reach and can ensure a more successful IPO.
Organized and automated project management
An IPO typically involves many stakeholders like bankers, lawyers, auditors, venture partners, and many others. A VDR can expedite the process through structured and automated collaboration and enable effective monitoring of the workflow and progress.
Fast and effective communication
VDR platforms offer secure Q&A features, making it easier to communicate, keep records of conversations, and excluding the need to use e-mails or other communication platforms.
Ease of use and customization
A VDR typically has an intuitive user interface ensuring trouble-free navigation through countless file formats and locations. Also, some providers offer an opportunity to customize your VDR platform according to the company's branding, giving it a professional look, signaling confidence to potential investors.
How can VDR functionality assist the IPO due diligence?
Online data rooms designed for IPO can be of great use in all IPO stages. The features offered by VDR providers allow companies to go through IPO stages more efficiently and might even save resources. Here is a list of the features worth considering based on the tasks of each IPO stage: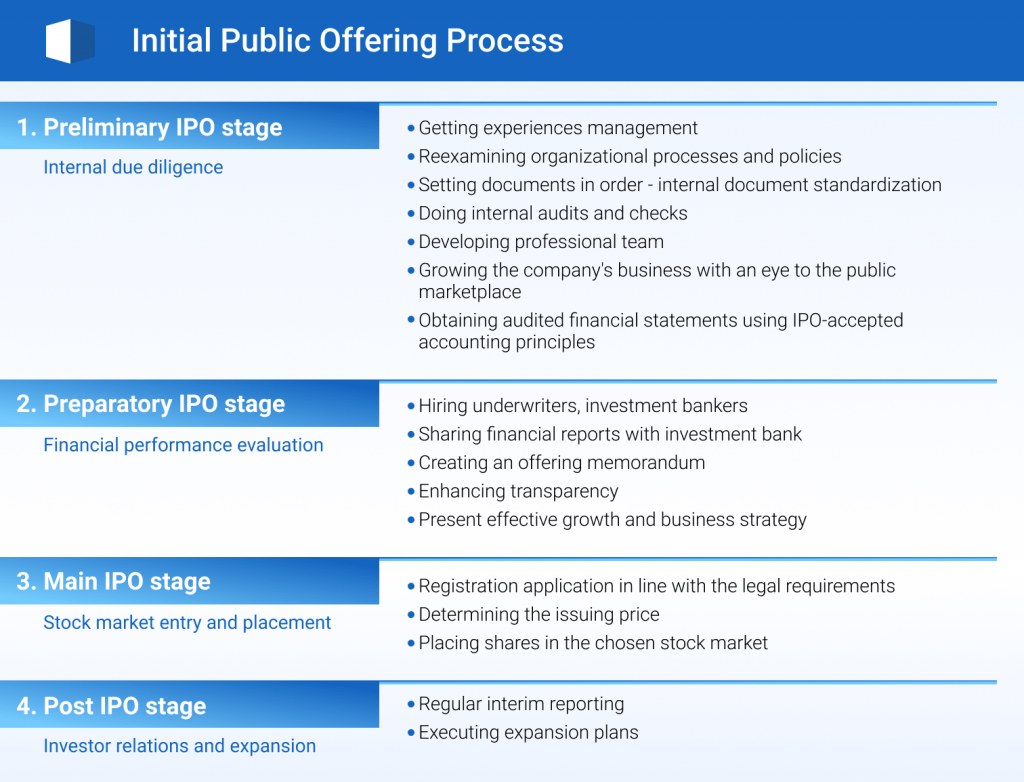 How to prepare and use VDR for the IPO process?
Regardless of the specifics of a company's business, structured document retention is critical for starting to use a virtual data room.
First, make sure to have a checklist of all necessary documents and data for audits. Then, as you gather the data, it is best to follow a specific file naming system or choose data room provider with automatic index numbering (the platform numbers folders and documents sequentially as they are uploaded).
Take your time and make an informed decision about the most suitable VDR provider for your IPO. It is best to look for a provider with extensive experience in assisting IPOs and a proven track record. Pay attention to the provider's security standards, interface, offered functionality, customer support, pricing, and of course, reviews. Some companies list their biggest clients on their websites. It can be a good indicator of what type of industry leaders have chosen their services and whether you would like to do the same.
References
Beginners, Investing, and What Post-IPO?. 2021. "What Is Post-IPO?". Finance – Zacks. https://finance.zacks.com/postipo-3209.html
"Going Public: How Long Does It Take?". 2021. Streetdirectory.Com. https://www.streetdirectory.com/travel_guide/18694/corporate_matters/going_public_how_long_does_it_take.html
"How To Smooth The Path To A Successful IPO Through Virtual Data Rooms". 2021. Finance Monthly | Monthly Finance News Magazine. https://www.finance-monthly.com/2018/09/how-to-smooth-the-path-to-a-successful-ipo-through-virtual-data-rooms
Recommended for you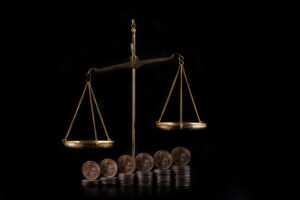 December 4 2023
10 min read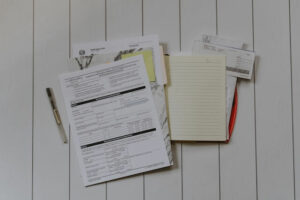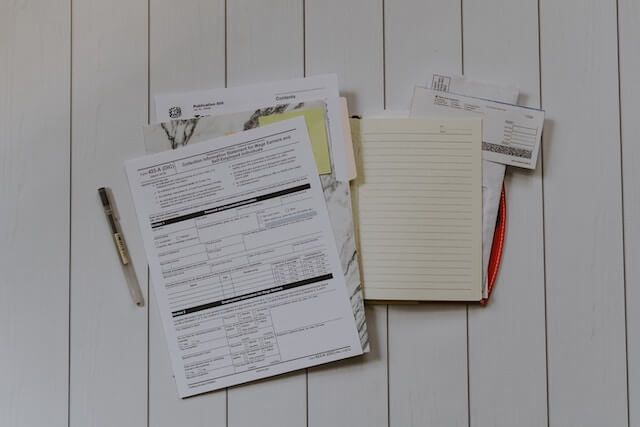 November 8 2023
9 min read