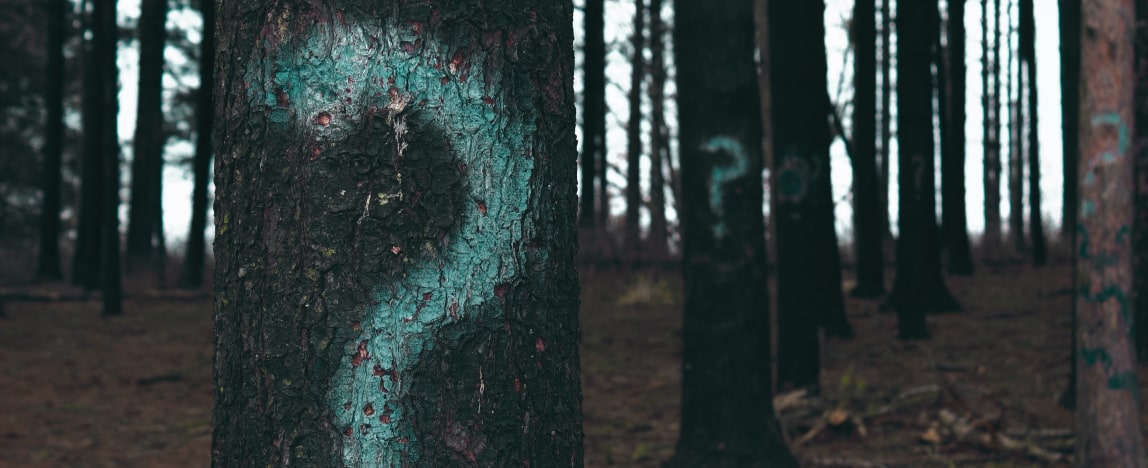 Many businesses and organizations use virtual data room (VDR) software to perform various tasks. This software was introduced to the market a few decades ago, and since then, it has completely replaced traditional data storage and sharing solutions.
The VDR software makes it easy to share files with partners, investors, and potential buyers while keeping them safe. All sensitive information is encrypted to prevent theft, which is the key priority.
In addition, VDR software makes the paperwork much easier and speeds up real estate transactions.
This article will cover different ways a real estate data room can simplify the processes in the real estate industry.
What is a real estate data room?
A real estate data room is software that enables real estate professionals to complete different tasks, including due diligence, efficiently. They can also use this software to manage documents and track multiple projects simultaneously.
The real estate management software quickly shares documents and provides secure data storage.
A real estate data room is a secure online space where you can store documents. It also eliminates the need for physical data storage. The main convenience is that it can provide you with access to unlimited data whenever you need it.
How a virtual data room helps you manage real estate?
The virtual data room technology is perfect if you want to store many of your documents in a secure place. Various VDR providers make it very easy to upload files in bulk.
You can upload all needed documentation regarding buildings, asset portfolios, or regulatory documents with just one click. Here are ways you can use the virtual data room for real estate management:
Manage all your real estate projects in one place
You can organize files by creating separate folders. Once your files are organized, you can provide access to each file individually to investors or employees. Real estate firms can easily manage all of their real estate projects in one place, using efficient management tools.
Manage your projects with efficient management tools
The virtual data room can store a lot of data securely, making it very convenient to conduct thorough due diligence for all of your real estate transactions. You just need to have everything organized in folders, so you can quickly find whatever you need, and you're all set.
Create branded user interface to increase customer engagement
Currently, making deals online using VDR technology is very common among real estate firms. Of course, real estate professionals can get even more with a branded virtual data room. 
Virtual data rooms eliminate the need to meet the potential buyer in person — and then wait for them to study the documents. You can now easily share all of the needed paperwork via a VDR so that the buyers can review them at their own pace.
Upload documents of any type for examination by third parties
Another great opportunity that a data room for real estate management offers is uploading videos and photos online. This allows your potential buyer to see the property without going to the location.
They can decide if they are interested enough to see the place in person. This saves a lot of time for your potential buyers.
Arrange a video tour in the virtual data room
The VDR software entices potential buyers by giving them a preview and a better understanding of the property's layout before visiting in person. With the video-uploading feature, real estate virtual tours are fast to execute, bringing many benefits to both parties.
Through the years, virtual data rooms have gained the trust of many big real estate firms. They have proven to simplify business processes, as you can control them and analyze buyer interest in specific deals through real-time statistics. It saves a lot of time and other resources for you, your buyers, investors, and partners.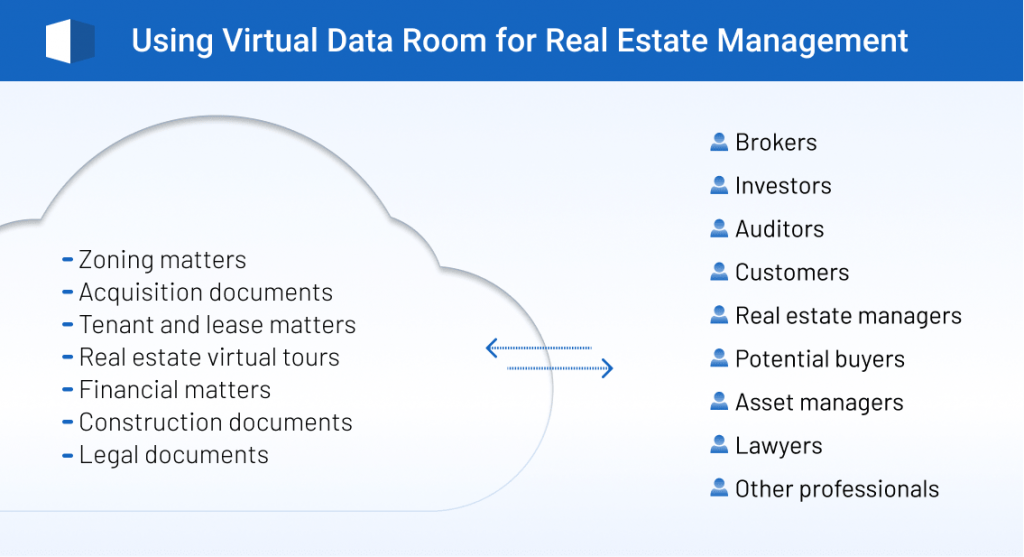 Who uses VDRs in the real estate process?
Virtual data room is a platform that unites many people within the real estate industry. You can give access to the virtual data room to:
Brokers can use the VDR to manage several real estate projects and assign other agents to certain rooms.
Real estate investors use the virtual data room to track the properties and communicate with partners.
Auditors and Real Estate Specialists.
The VDR is great for auditors, as they have access to all needed documentation for planning and tracking the budget process for property coordination.
Customers and potential buyers.
Potential buyers can use the software to review the documents, check images or videos of the property to make decisions faster.
Asset managers can easily track the funds and financial documents using the VDR.
You can give lawyers access to specific documents to check them and figure out if the processes are going well.
Real estate professionals.
Many professionals find the real estate data room very efficient and are using it regularly for property management.
Important features to look for in virtual data rooms for effective property management
There are many VDR software providers in the market. That's why it's crucial to identify which features are suitable for your company and compare several providers to see which is best for you and your clients.
We compared three of the most popular real estate VDR providers.
Comparison table of VDR providers
Providers
DealRoom
iDeals
Fordata
Pricing plans
Monthly or Flat Rate
Monthly Standard Subscription
Monthly or Flat Rate
Support options
Live chat, ticketing, knowledge base, phone
Email, phone, live chat
Live chat, ticketing, knowledgebase, phone
Storage volume
Basic plan — 1 room; Professional plan — Unlimited
Basic plan — 1 room; Business plan — Several
VDR Lite or basic plan — 1 room
VDR Pro plan — Multiple
Features
Audit Logs, Document Heatmaps, and Real-Time Activity Reports
Q&A section that encourages engagement and communication, Audit Logs, Real-Time Activity Reports
Audit Logs, Real-Time Activity Reports
Supported formats
Any document format (pdf, office, etc.)
25+ formats. Files are also converted into a secure PDF format to be viewed with most Internet browsers
Any format (supports office, pdf, jpg, mp4, dwg, dwf, others)
Photo/video upload feature
Yes
Yes
Yes
DealRoom
The DealRoom provider offers features such as drag-and-drop upload, permission settings, and bulk file upload. You can integrate this data room with Salesforce, Slack, and Microsoft Office 365 – everything you need for managing your deals.
DealRoom is an acclaimed software for Merger and Acquisition (M&A) solutions. It has a simple and intuitive design to make managing your files much easier. Its users include many well-known companies, including Pfizer, J.P. Morgan, and Baird.
iDeals
iDeals data room is known for its Q&A section feature that encourages communication between professionals and potential buyers. This software is secure and used in various industries, including real estate.
Fordata
Fordata has all of the features you need to manage your documents efficiently. Its features include drag-and-drop upload, permission settings, document viewer, and automatic indexing. 
You also get good customer service, a high level of security, and great usability. Many large law firms, banks, venture capitalist (VC) funds, and other companies choose Fordata for their documentation and deal management.
Based on this comparison, you can now analyze what you need for your projects and deals to choose the one that best fits your company.
Why real estate companies use VDR software?
The real estate industry is constantly growing, introducing more opportunities and deals to professionals.
The main appeal of VDR software is that it allows real estate companies to manage many projects simultaneously. Through secure file sharing and communication with partners and investors, your company can stay at the top of the game, especially in a red-hot real estate market.
Some benefits of using a VDR for your real estate company include:
Real estate project management.
Among other features, the organizational tools the VDR provides are extremely valuable. They allow you to manage assets, real estate portfolios, and facilitate purchases and sales. With efficiency, accuracy, and security, you can manage commercial real estate due diligence, investment sales, joint ventures, and strategic alliances. 
Secure file sharing and communication with partners and investors.
VDR providers designed this technology with comprehensive security processes to ensure the client's data is highly protected.
Real estate due diligence.
This type of real estate management software can benefit companies in performing due diligence accurately and efficiently. If the documentation is not organized and maintained, the company is at risk of failing to comply with due diligence regulations and paying the fines. VDR software helps to make the due diligence process much simpler and quicker.
Commercial real estate investment sales.
Commercial real estate investment sales require reviewing many documents regarding properties as they will be used for business-related purposes. Here, the VDR helps to organize everything in separate folders and track the investors' activity.
Joint ventures and strategic alliances.
Strategic alliances and joint ventures, as arrangements between two companies, require both parties to check the needed documentation. As it's a mutually beneficial project, it's important that both parties are informed about their goals and processes.
Bankruptcy and restructuring.
It's important that lawyers have quick access to financial, tax, and other documents so that when needed, they can reach out to creditors for an agreement to avoid bankruptcy. The use of VDR in the restructuring process accelerates the reorganization of the company.
Having all of the financial documents in one place makes it easy and efficient to manage the company's assets. It allows you to manage and review documents in real-time and track financial matters.
In the VDR, you can upload many files and create separate projects, which allows you to manage the real estate portfolio. This helps to make strategic decisions effectively.
When the documents are in one place, and you can easily find them and give access to lawyers when needed. As time is of the essence, using a VDR helps to stay in compliance with the current laws and regulations.
You can also use the data rooms for advisory services, as you have features like a Q&A section, where you can quickly help your clients and advise them on certain matters.
To conduct an accurate property valuation, an appraiser must have detailed analytics and comparisons of other recently sold properties in the area (commonly referred to as comps). Having quick and easy access to this information saves valuable time when waiting on an appraisal.
You can also use VDRs when swapping properties in a 1031 Exchange. Though quite a complicated process, you are simply swapping/exchanging one property for another "like-kind" property to defer capital gains taxes. With the tools provided, you can sort everything out and track all of the processes in one place.
With a real estate data room, you can access the documents from anywhere and anytime, resulting in faster decision-making from both sides of the transaction that may lead to closing the deal quicker.
In the fast-moving real estate market, it's good to be able to save time on different processes. Especially when it comes to facilitating a purchase, you need to be able to access the documents quickly. A well-organized VDR can even show your potential buyers your professionalism and boost trust in your brand.
What data is kept in a real estate data room?
A real estate data room is safe to use for storing sensitive and confidential data. It allows you to share this data within your organization or with other trusted people.
By eliminating paperwork, you can reduce paper waste and clutter. With the help of the real estate data room, the company can downsize, as there is no need for a lot of physical space for critical data storage.
In the real estate data room, you can store:
The zoning matters include the purchase agreement and legal documentation. They also may include statements from officials and local regulations.
Companies also use the data room for real estate management during mergers and acquisitions (M&A). They choose this software as it acts as a data repository, saves a lot of time, and serves as a secure collaborative space for professionals.
Tenant and Lease Matters.
Tenant and lease matters include lease agreements and contracts.
Real Estate Virtual Tours.
You can upload real estate photographs and videos to the VDR for any of your real estate listings, as well as video presentations for due diligence documents.
You can upload all of the documentation regarding finances, taxes, property liens, etc.
In the VDR, you can also share the construction documents to communicate the project's construction design with your team. You can upload documents related to administering the construction contract and engineering plans as well.
The legal documents may include different agreements, appraisals, disclosures, reports, deeds, etc.
Virtual data rooms are a reliable, cost-effective method for real estate companies to store and share critical data with interested parties. Various VDR providers offer different features, but knowing what fits best for your projects will help you find the one that meets all your business needs.
References
Harroch, Richard (2016). "The Importance Of Online Data Rooms In Mergers And Acquisitions" – Forbes https://www.forbes.com/sites/allbusiness/2016/08/15/the-importance-of-online-data-rooms-in-mergers-and-acquisitions
"Due Diligence In Commercial Real Estate Transactions". 2021 https://www.wolterskluwer.com/en/expert-insights/due-diligence-in-commercial-real-estate-transactions
Jack P. Friedman Ph.D., J. Bruce Lindeman Ph.D. (2019). "Real Estate Licensing Exams with Online Digital Flashcards (Barron's Test Prep)"
Kimberly W., Andy Krause, Clifford A. Lipscomb (2017). "Real Estate Analysis in the Information Age: Techniques for Big Data and Statistical Modeling"
Recommended for you