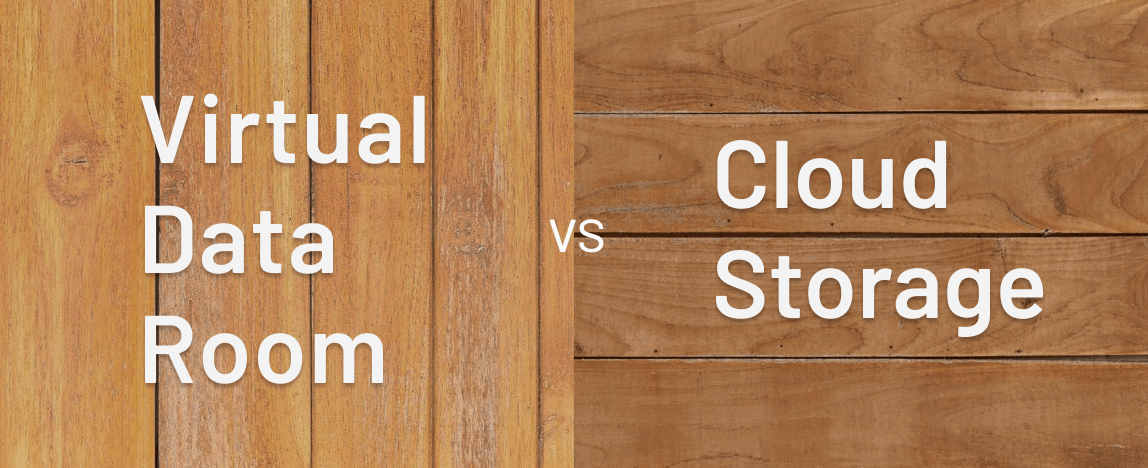 Virtual Data Rooms (VDRs) and public-access file sharing platforms have a lot in common. But their differences are critical. Let's take a closer look at each solution so you can make the right decision for your business.
What is cloud storage?
Cloud storage is the technology behind most virtual data rooms and free file sharing platforms. In cloud computing, data exchange happens through internet-based tools and apps. This approach to storing data allows users to exchange information and files from anywhere quickly.
The clouds are not entirely virtual. Every file sharing platform hosts servers that contain the software and user data. The main difference from on-premise storage is that the servers are remote.
Cloud storage allows file sharing platform users to store and exchange data remotely.
Cloud storage services have many uses, from domestic to industrial. But a free file sharing platform might not be the correct solution for everyone.
Pros and cons of free cloud-storage services
Pros:
Quick and hassle-free access
Sufficient storage capacities for individual users
Integration with other services, such as email
Cons:
Data sharing is impossible to control
Exposure to breaches and hacks
No automatic audit trails
Limited toolset and support
High human mistake probability
Most household users find the public-access providers sufficient enough. However, businesses and dealmakers need to guarantee added security and functionality.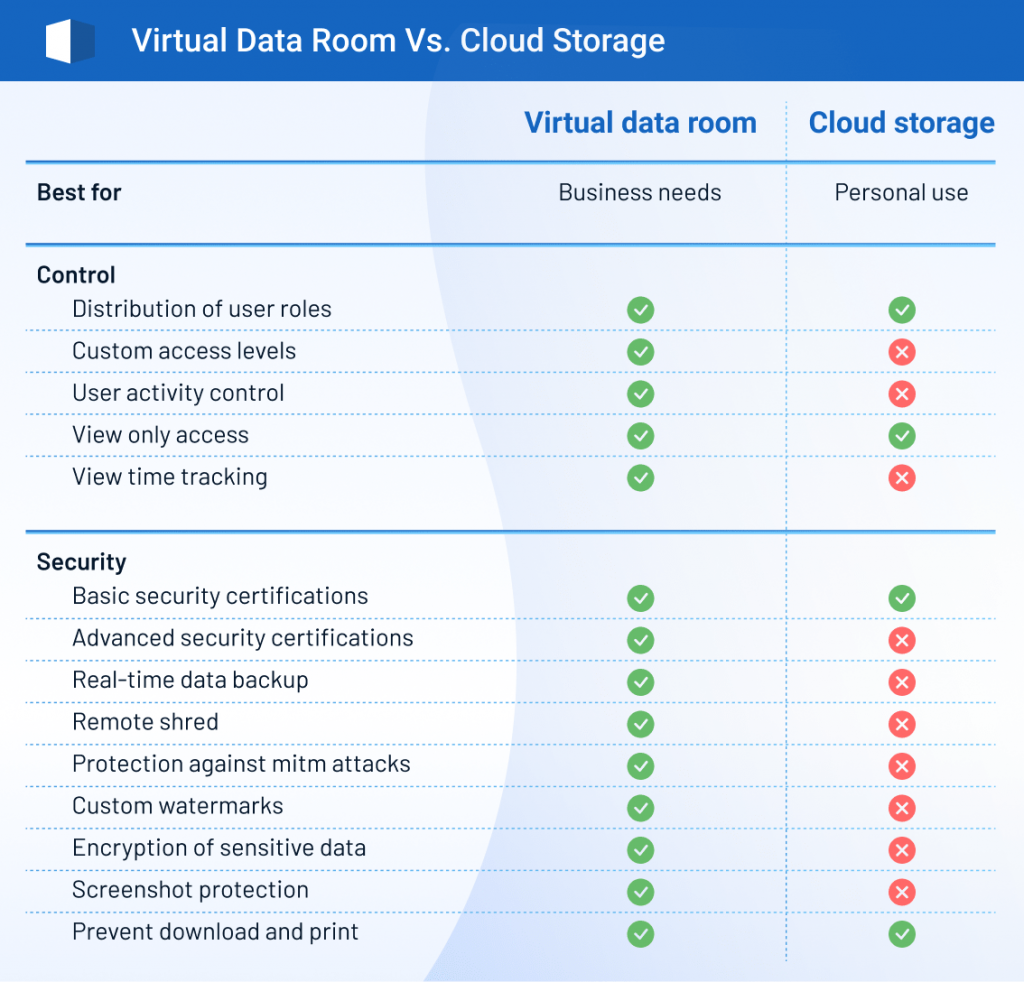 What is a virtual data room?
Virtual Data Room (VDR) is a platform for storing and exchanging confidential data that ensures high security of electronic data by complying with international data room security certifications. The most common VDR use cases include:
Apart from storing sensitive data, a virtual data room can offer many additional tools and services — for instance, user management and tracking, data gathering instruments, templates, and checklists.
Online data room pros and cons
Pros:
Detailed user and access management
Security standards compliance and certifications
Multiple levels of data protection
Tailored tools and services
24/7/365 live customer support with short response times
Cons:
Cost more than public-access storage services
Might require additional training
Some VDRs lack integration flexibility
According to a paper by the Institute of Mergers, Acquisitions and Alliances (IMAA), virtual data rooms offer more value to dealmakers than any public-access storage solution. This is due to a combination of a wide tool range and niche focus of most VDR providers.
However, many users hesitate to make the necessary shift because of virtual data room costs. Which brings us to the following question, "Are public-access cloud storage services actually free?"
Are cloud storage services free?
Although most cloud storage providers advertise their services as free, it's not always the case. Cost-free conditions only apply to limited storage volumes. Nearly all services provide "freemium" packages — limited storage space is offered for free, but additional storage requires an upgrade for a monthly fee.
The complimentary space is often more than enough for household users. But businesses and independent professionals will very likely face monthly charges for additional storage.
Take a look at what the most popular cloud storage providers charge for extra space:
Cloud storage provider
Free Space Offered
Additional Space Upgrade Options
Google Drive
15 GB
100 GB for $1.99/month
200 GB for $2.99/month
2 TB for $9.99/month
10 TB for $99.99/month
DropBox
2 GB
Basic plan – 1 TB for $3.75/month
Pro – $9.99/user/month for 100 GB/month
Business – $15/user/month
pCloud
10 GB
500 GB for $175/lifetime membership
2 TB for $350/lifetime membership
Microsoft OneDrive
5 GB
100 GB for $1.99/month
1 TB for $6.99/month$5/user/month
Sync.com
5 GB
2 TB for $8/month
3 TB for $10/month
4 TB for $15/month
OpenDrive
5 GB
$12.95/user/month
Egnyte
10 GB
10 GB for $10/month
Are there free virtual data rooms?
Compared to the typical cloud storage fees, virtual data room costs might seem out of proportion. And a lot of potential VDR users wonder, "Are there free data rooms?"
The most straightforward answer is no. Virtual data room costs cover top-quality security measures, constantly evolving technologies, and efficient customer service.
Some VDR providers offer free trial periods. Most users use the demo time to set up for future operations. But there are also cases when the trial mode satisfies their initial needs.
Safety standard differences
Security is key to choosing a reliable document management tool. A data breach can cost a fair amount of money. What's more, information leaks can escalate to the loss of trust and result in the company's operations crashing.
General-access cloud storage has a history of significant breaches. Such as the Dropbox password leak of 2012 or iCloud's 2014 fiasco.
The main reason why cloud storage isn't the equivalent of a free data room is because of the data and file-sharing feature. Users distribute links without any strict tracking or access limitations. These links can then be exposed to hackers through a Google search, for example.
With public cloud storage, whoever has the link, has access.
Now, virtual data rooms authorize users using several steps:
The administrator invites users to the platform.
Each user creates an account with a password and multi-factor authentication.
Once the user is authorized, their activity is closely monitored. The system tracks:


When each document was accessed
Access duration
How many times each user accessed the document
Such authorization protocol eliminates the risk of free virtual data room access.
Other benefits of virtual data rooms for business
The main reason why general-access cloud storage isn't the same as a free virtual data room is security. Although virtual data room costs can be high, they are associated with value. Here's why businesses go for VDRs over free cloud storage:
Experienced VDR providers offer all the necessary tools for productive teamwork and governance.
Virtual data room software can handle large data volumes and multiple active users.
Companies that invite partners and buyers to VDRs come off as more responsible and trustworthy.
User-friendly interfaces and free data room training make the VDR experience simple for every participant.
Most virtual data rooms can be customized to match specific requirements and visual presentation.
Established VDRs undergo strict regulation and auditing.
Virtual Data Room vs. free cloud storage: Final thoughts
A public-access file sharing platform works for storing and sharing non-confidential files. But any type of sensitive data is not safe with cloud-based storage services. It is best to go with a virtual data room to guarantee the utmost security and functionality.
References
Recommended for you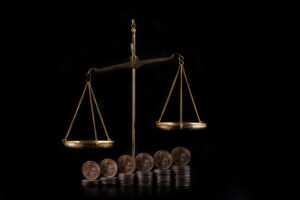 December 4 2023
10 min read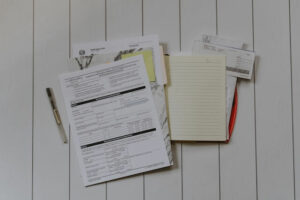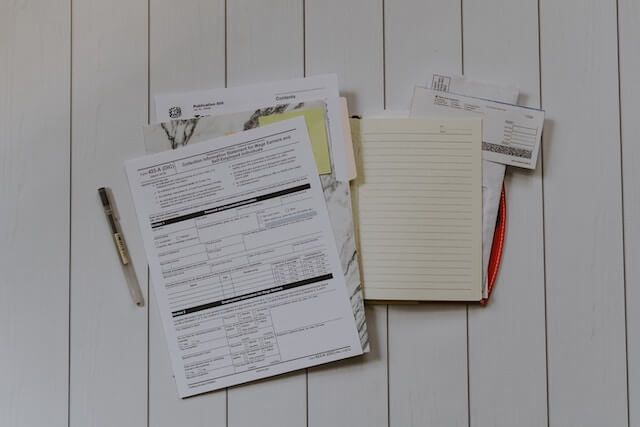 November 8 2023
9 min read